Back-to-School 2021 Shopping Guide
27 Jul 2021 by Dollar Dig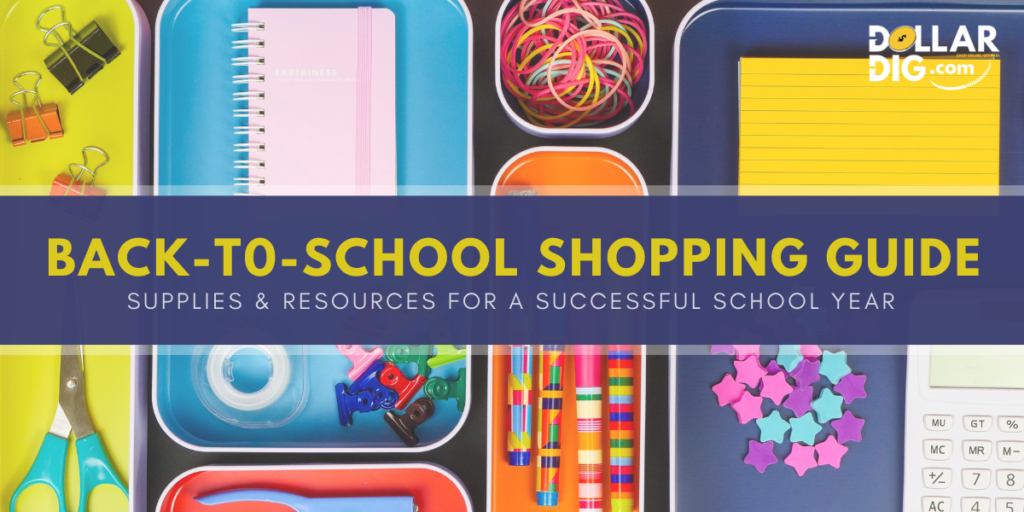 Summer break is nearly over for kids across the country. Avoid the madness of in-store back-to-school shopping this year by getting everything you and your kids need for a successful school year from the comfort of your computer (or smartphone).
Here is our guide for buying school supplies and resources online for 2021:
Online Learning
Whether your child is returning to in-person school or learning online, you can provide them with educational learning opportunities on the computer:
Younger children might enjoy a subscription to ABCmouse.com to learn about all kinds of subjects.




Older kids interested in gaming or computers can learn how to code their own games and programs through online coding schools like CodaKid.




Kids of all ages from Pre-K to aged 16 will be waiting at the mailbox for their monthly Kiwi Crate full of crafts, STEM activities, and cool learning.



School Supplies
Opening fresh school supplies is every kid's dream! What kid doesn't love freshly sharpened pencil crayons, smooth white erasers, and a new pencil bag.
Many schools may offer school supplies through their own bulk buying program, but if yours doesn't, you can get good quality discounted supplies online from Discount School Supply or check the online dollar stores (like DollarDays or DollarTree) to get what you need to fill their new pencil cases this September.
Clothing and Accessories
The other cool part about back to school is getting new outfits! Your kids likely grew over the summer and will need a new set of fall clothes to start the year off on a fashionable first foot:
FabKids carries affordable kids' clothing and accessories that are kid-tested and approved, on-trend, and mom-approved!




French Toast is the #1 brand for school uniforms and back-to-school fashions that your kids can wear day after day.




OshKosh B'Gosh has iconic American clothes to take them from the playground to the classroom and home again while looking fabulous.



Homeschooling
Are you homeschooling this year? Staying organized will be key so grab yourself a momAgenda so your family and school schedules can stay in sync. There are also many great resources to get educational resources, including Knowledge Box Central (for homeschooling supplies) and Highlights For Children (an educational magazine for kids 0-12).
For the Lunchbox
How many of you start the year out with perfectly curated lunches for your kids in September, then by November, you're just throwing anything you can find that's somewhat edible in their lunchbox? Stock your home with healthy snacks for your kids from PeaTos or That's It, so at least you've got some healthy options each day.
For College
Have children going to college? Textbooks are so expensive, but you can get them for much cheaper from sites like eCampus.com. If writing essays and papers are part of your student's schooling, consider getting them an affordable subscription for Grammarly so they can check their paper for embarrassing errors and plagiarism before they submit them.
How to save money on back to school 2021
Back to school doesn't have to be expensive. Put some money back in your pocket when you get cashback on your qualifying back-to-school purchases through Dollar Dig. Get your free account today and click on the affiliate links in your account, and you'll start seeing cashback in your account!
NOT A MEMBER YET?
It's free to join and be a member! Sign up for your account today and start earning cashback!
To get started, register for a free account with Dollar Dig, click on your unique shopping link at one of over 3000 online stores on our site (including the ones we linked in this article), order your products online like normal, then wait for your cash back. Get started saving today!

Sign up for a free account and earn cashback when you shop online!
Want to know how it works?
Dollar Dig gets paid to advertise the stores featured on our website and uses that money to pay you in cashback when you click the store link.
All you have to do is login to your Dollar Dig account, search for your favorite store, click the store link and shop as you normally would on that store's website. When you're done adding to your cart, you simply checkout and make your purchase…that's it!
Once the order processes and isn't cancelled or returned during the typical 90-day store return period (waiting periods vary from store-to-store – more details available on each Dollar Dig store page), Dollar Dig then rewards you with cashback that can be found in your Dollar Dig account.