Top 7 Better Burger Tips: Happy National Hamburger Month
25 May 2021 by Dollar Dig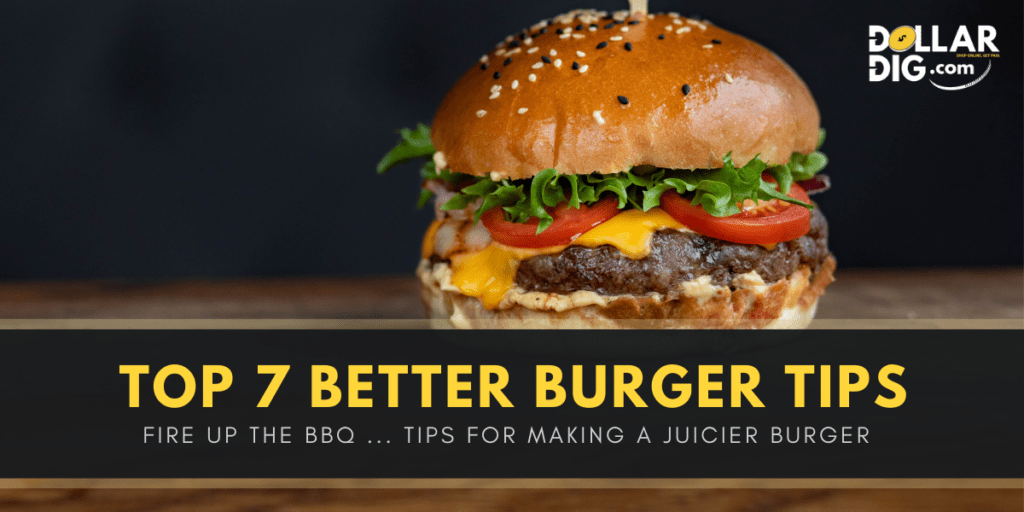 Have you been craving a big, juicy burger on the patio? Summer is nearly here, which means you can fire up the BBQ and get the fixin's ready for a BBQ burger party! May is National Hamburger Month, so we thought it was time to give you some tips for making better burgers this summer!
Here are our top 7 tips for making the BEST burgers on the block:
Tip #1: Get a good BBQ
The proper BBQ will make a big difference in your burgers. Your choice of BBQ fuel (natural gas, propane, wood-burning) will affect the taste of your burgers, so choose wisely!
Tip #2: Use fresh meat
The fresher your ground meat for fresh burgers, the better. Bobby Flay makes some of the best burgers on the planet and he suggests 80/20 ground chuck (80% lean, 20% fat) for best results. You can also experiment by mixing meats or trying leaner meats like chicken or turkey. Or, if you are a vegetarian, try making your own falafel or better-than-meat burger.
Tip #3: Make a thumbprint
When making fresh burgers, you need to be mindful of the internal temperature to know when they're done. For more even cooking, make a giant thumbprint in the middle of the burger. It's the most challenging part to thoroughly cook, so by compressing the middle, you help get a more even cook throughout, without a too-raw center.
Tip #4: Add an egg
Yes, that's right! A freshly fried egg on your burger is a great way to fancy it up! Put it on top of your burger for the best results. A smear of fresh avocado goes great with egg on a burger too.
Tip #5: Mix your cheese
Consider adding freshly sliced cheese (not the disgusting processed stuff) to your burgers a minute before they come off the BBQ. This helps the cheese melt slightly. Try mixing cheeses or trying some new artisanal cheeses.
Tip #6: Top with fresh produce
The freshness of toppings like lettuce, tomato, and onions helps bring the flavors of your burger together. If you're hosting others, consider setting out a burger bar with pre-cut vegetables so people can add their favorites. Ensure your ketchup, mustard, mayonnaise, and BBQ sauce bottles are full (you can stock up on your next online grocery delivery).
Tip #7: Choose your sides wisely
While the burger is likely to be the main attraction at your Summer 2021 backyard BBQ party, your choice of sides is also essential. June just happens to be National Salad Month, so give your guests some tasty salad options. Popular summer salads to accompany burgers include:
Macaroni salad

Potato salad

Fruit salad

Greek salad
And finally, be sure you have something to wash down your yummy burgers with. You can choose from a variety of wines and beers or non-alcoholic beverages from your local supermarket. Don't forget the ice too, especially on those sweltering hot days!
When you purchase all your backyard BBQ and patio party supplies through Dollar Dig, you can get cash back on every qualifying purchase! It's no different than buying online; you just do it through your unique link when you log in to Dollar Dig. Start saving with cashback offers today!
NOT A MEMBER YET?
It's free to join and be a member! Sign up for your account today and start earning cashback!
To get started, register for a free account with Dollar Dig, click on your unique shopping link at one of over 3000 online stores on our site (including the ones we linked in this article), order your products online like normal, then wait for your cash back. Get started saving today!

Sign up for a free account and earn cashback when you shop online!
Want to know how it works?
Dollar Dig gets paid to advertise the stores featured on our website and uses that money to pay you in cashback when you click the store link.
All you have to do is login to your Dollar Dig account, search for your favorite store, click the store link and shop as you normally would on that store's website. When you're done adding to your cart, you simply checkout and make your purchase…that's it!
Once the order processes and isn't cancelled or returned during the typical 90-day store return period (waiting periods vary from store-to-store – more details available on each Dollar Dig store page), Dollar Dig then rewards you with cashback that can be found in your Dollar Dig account.