Where To Catch Unbelievable Deals: Black Friday and Cyber Monday 2020
26 Nov 2020 by Dollar Dig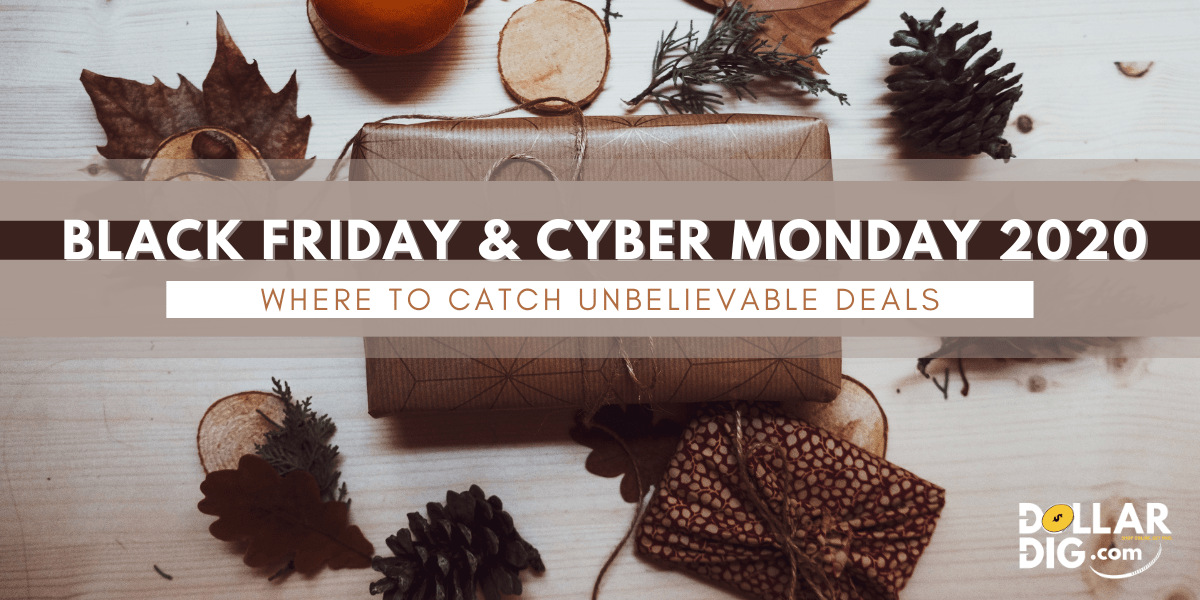 Happy Thanksgiving! I know it may seem hard after the year we've just had, but we have a lot to give thanks for this year. We're already seeing early Black Friday and Cyber Monday deals popping up on the internet, and you might be extra thankful for some of these amazing deals!!
Cross off your holiday shopping list this weekend during the Black Friday and Cyber Monday sales. Here are some sites to check out this weekend:
Deals for the wall: Iconic Paw
Our pets probably loved that we spent more time at home this year. Iconic Paw creates some unique pet portraits that will make you smile, laugh, or cry tears of joy. For the pet parent on your list, get them this one-of-a-kind art piece!
Deals for the geek: GeekBuying
We've all got those hard-to-buy-for people on our list. These are thDo you know a serious tech geek who needs some new tech or accessories? GeekBuying is one of the most popular electronics stores in Shenzen, China and you can now order their products online!
Deals to sip: Volcanica Coffee
Baby, it's cold outside so why not give the gift of warmth.Volcanica Coffeepacks make great gifts for coffee lovers who want to sip a warm brew in front of a crackling fire on Saturday mornings.
Deals for light: Lumens
For the person who needs a little light in their life, Lumens has what you need. Choose from their selection of contemporary and modern lighting and other home products including fans, accessories, and furnishings.
Deals for crafters: Stampington & Company
The largest publisher of niche magazines for the art and crafting industry, Stampington & Company sells over 1 million copies every year. Order a subscription to your favorite craft or art publication through their website this weekend!
Deals for your body: eCosmetics
Whether you need skincare, hair product, or cosmetics, you can order your favorite brands from your couch. eCosmetics has great products for yourself or stocking stuffers for your loved ones.
Deals for your 4-legged friends: Petmate
Your pets are beloved members of your family so get them fun, trusted, and quality products from Petmate. Get them a special treat or a toy today.
Deals for Breakfast: SmoothieBox
Your morning smoothies can be healthy and convenient. Super smoothy subscriptions from SmoothieBox contain all thoughtfully-sourced ingredients to make your smoothie-time delicious.
Deals for savings: Slide
Get 4% additional cashback on everyday purchases from the Slide App. You'll be pleasantly surprised how quickly 4% adds up every month.
Deals for better sight: Clearly.ca & Coastal.com
Make sure you can see all the presents under the tree this Christmas with new glasses or contacts. Get some great cashback offers and coupons from clearly.ca and coastal.com.
How To Save More This Black Friday and Cyber Monday
In addition to all the amazing deals we're expecting this weekend, don't forget to save even more with cashback on all the companies listed in this article and throughout the Dollar Dig website. Earn anywhere, earn up to 50% or more or more cash back when you purchase through your account link.
Signup for a free account now so you're ready to shop as soon as those deals drop on this weekend.
---
NOT A MEMBER YET?
It's free to join and be a member! Sign up for your account today and start earning cashback!
To get started, register for a free account with Dollar Dig, click on your unique shopping link at one of over 3000 online stores on our site (including the ones we linked in this article), order your products online like normal, then wait for your cash back. Get started saving today!

Sign up for a free account and earn cashback when you shop online!
---
Want to know how it works?
Dollar Dig gets paid to advertise the stores featured on our website and uses that money to pay you in cashback when you click the store link.
All you have to do is login to your Dollar Dig account, search for your favorite store, click the store link and shop as you normally would on that store's website. When you're done adding to your cart, you simply checkout and make your purchase…that's it!
Once the order processes and isn't cancelled or returned during the typical 90-day store return period (waiting periods vary from store-to-store – more details available on each Dollar Dig store page), Dollar Dig then rewards you with cashback that can be found in your Dollar Dig account.