Creative Virtual Wedding (or Engagement) Party Planning Ideas
26 Feb 2021 by Dollar Dig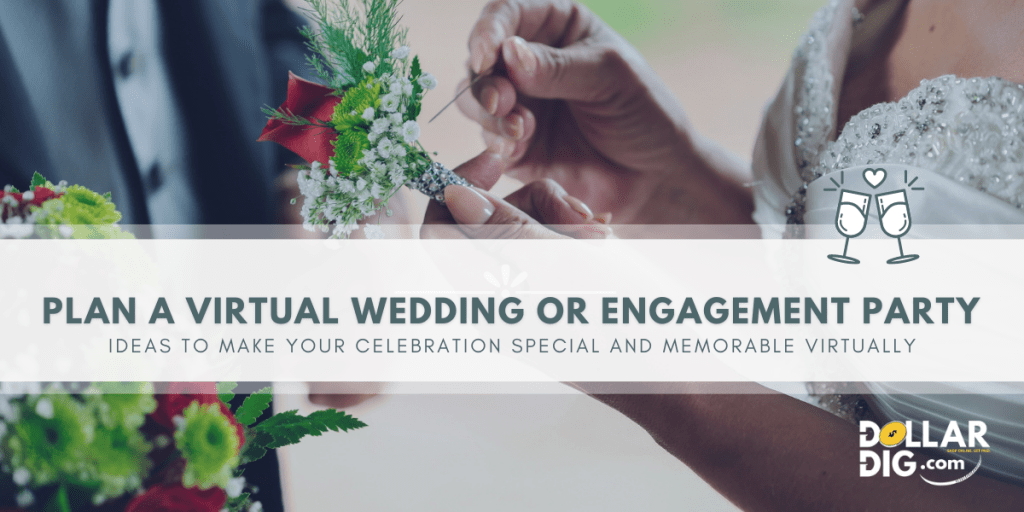 Weddings and engagement parties are some of the most memorable days in our lives. We may not be able to attend 200 person events right now, but that doesn't mean we can't still celebrate virtually together.
Celebrate your wedding, engagement party, anniversary, or birthday via a group video chat party. Here are some ideas to make it special and memorable:
Pick a theme
All great events have a theme. Go with tried-and-tested favorites like "Under the Sea," or "Hawaiian," or choose a theme that speaks to you and your special occasion.
Send out invites
Knock the socks off your guests with an unexpected snail-mailed invitation or greeting card. It will definitely leave a delightful impression on your guests.
Are you crafty? Buy a Cricut machine and design and print your own invitations! Or maybe you're more adventurous and if that's the case, send your guests a unique Invitation in a Bottle!
Decorate your space
Aside from food, event decorations are usually a big budget item for in-person events. For virtual events, you only need to decorate what your webcam will see. This means your laundry can be strewn on the floor if it's pushed below camera-level!
Here are some fun ideas to decorate your party at home:
Send the party food to your guests
One of the BEST things about parties and celebrations is the food!

For virtual events, consider mailing your guests some party snacks. Depending on your party theme you could send:
Mail guest goodie bags
We used to love bringing home fun trinkets and goodie bags from weddings and birthdays. For your next virtual celebration mail your guests a small thank you gift.
Here are some ideas:
Virtual events can be a great budget-saver. Save more when you buy your virtual celebration supplies through your Dollar Dig account.
Sign up for a free account today and Start earning cashback right now!
NOT A MEMBER YET?
It's free to join and be a member! Sign up for your account today and start earning cashback!
To get started, register for a free account with Dollar Dig, click on your unique shopping link at one of over 3000 online stores on our site (including the ones we linked in this article), order your products online like normal, then wait for your cash back. Get started saving today!

Sign up for a free account and earn cashback when you shop online!
Want to know how it works?
Dollar Dig gets paid to advertise the stores featured on our website and uses that money to pay you in cashback when you click the store link.
All you have to do is login to your Dollar Dig account, search for your favorite store, click the store link and shop as you normally would on that store's website. When you're done adding to your cart, you simply checkout and make your purchase…that's it!
Once the order processes and isn't cancelled or returned during the typical 90-day store return period (waiting periods vary from store-to-store – more details available on each Dollar Dig store page), Dollar Dig then rewards you with cashback that can be found in your Dollar Dig account.