Home Fall Decorating Guide
22 Sep 2021 by Dollar Dig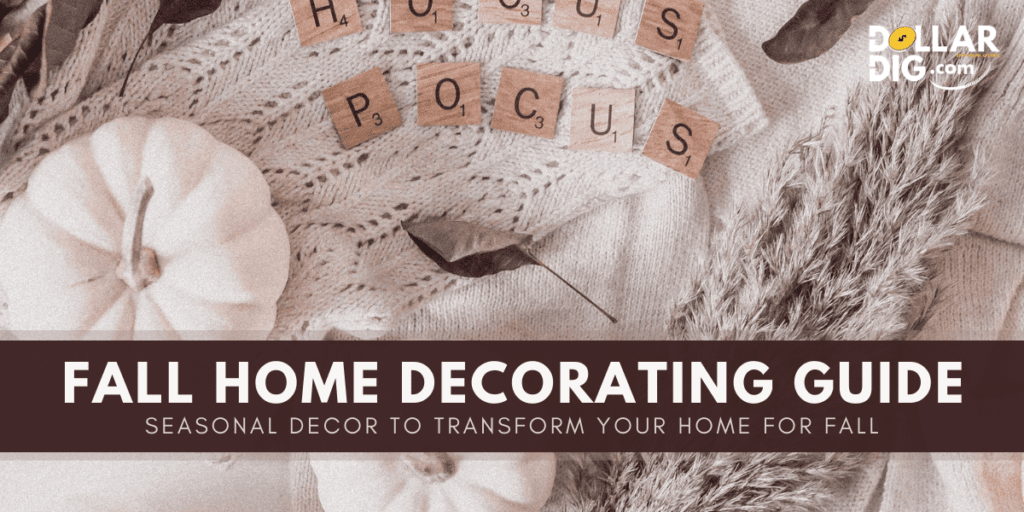 The cooler weather is upon us. How are you going to stay cozy this Fall and Winter?
Most stores are already stocked with Halloween decor, but don't let that distract you from the other Fall seasonal decor and items on the shelves. Now is the time to get everything you need to transform your home from Summer to Fall.
Here's our guide to decorating your home for Fall:
Warm with outdoor fire tables and heat lamps
Extend your summer nights on the patio without needing your parka! Outdoor fire tables and heat lamps can take the edge off for cool Summer nights and chilly Fall evenings.
For indoor heat, it might be time to clean and fire up your indoor fireplace soon. Autumn and Winter evenings are much better with a glass of your favorite wine and a good movie as you cuddle under a warm cashmere blanket next to a roaring fireplace.
Light your home with candles
As we progress further into Fall, it's going to get dark sooner. Save on your electricity bills by ordering delivery tonight, and eat by candlelight. Or, curl up on your new couch with a scented candle and your favorite novel.
"Autumn-ize" your home
So "Autumn-ize" isn't really a word, but you get what we mean! Think of ways to bring Fall colors and elements into your home:
Burgundy and brown: Find home decor items in these colors to theme your home for Fall. The brown provides grounding and the burgundy is your pop of color! You could replace the burgundy with burnt orange or red, both great eye-catching colors for Fall.




Autumn textures: Bringing new textures into your home is a great way to decorate for the Autumn season. Consider fresh bushels of cut greenery from your garden or some of those super cute mini pumpkins or gourds to decorate your home. For the crafty among you, grab some fall-colored acrylic paints and paint your gourds to match your holiday decor.



Prepare your yard for Fall
In addition to decorating the inside of your home, sadly, it's time for your summer outdoor gear to be put away too. Get covers for your BBQ and outdoor furniture, and grab some big compost bags from Walmart to rake up those beautiful falling leaves before they clog up your storm sewers.
Prepare your wallet for Fall
It doesn't have to break the bank to decorate and prepare your home for Autumn. You can get cash back on your online purchase when you sign up for your free Dollar Dig account. Simply register, log into your account, and shop through your unique affiliate links. Then you will see cashback in your account for every qualifying purchase you make. You can sign up right NOW!
NOT A MEMBER YET?
It's free to join and be a member! Sign up for your account today and start earning cashback!
To get started, register for a free account with Dollar Dig, click on your unique shopping link at one of over 3000 online stores on our site (including the ones we linked in this article), order your products online like normal, then wait for your cash back. Get started saving today!

Sign up for a free account and earn cashback when you shop online!
Want to know how it works?
Dollar Dig gets paid to advertise the stores featured on our website and uses that money to pay you in cashback when you click the store link.
All you have to do is login to your Dollar Dig account, search for your favorite store, click the store link and shop as you normally would on that store's website. When you're done adding to your cart, you simply checkout and make your purchase…that's it!
Once the order processes and isn't cancelled or returned during the typical 90-day store return period (waiting periods vary from store-to-store – more details available on each Dollar Dig store page), Dollar Dig then rewards you with cashback that can be found in your Dollar Dig account.