Gifts To Tickle Your Funny Bone
30 Apr 2021 by Dollar Dig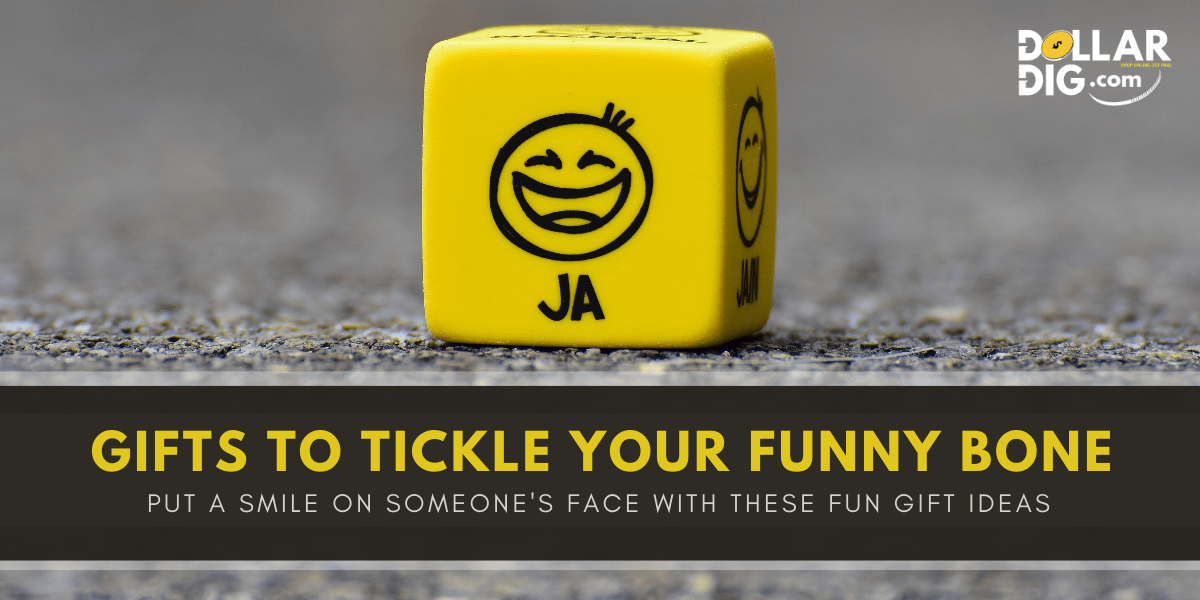 We've all got that one person in the family. The person who looks for any opportunity to crack a dad joke or retort with a terrible pun at every social gathering. If you've got that person in the family, are that person yourself, you're gonna love today's blog theme: gifts to tickle your funny bone.
There is no shortage of gifts and messages you can send to people in your life who appreciate a good joke! A good joke may be just the thing to turn someone's day around for the better.
For National Humor Month, we wanted to share some fun gifts and items you can buy that are sure to put a smile on your face or at least tickle your funny bone:
Wear T-Shirts with witty sayings. A good (or in the case, funny) saying on a shirt can be a great conversation starter with a stranger or a friend. It's a fun way to show off your goofy side. Here are some of our favorite stores to get your funny t-shirts and apparel:
Gag gifts to please anyone. Spencer's Gifts have been adding humor and enjoyment to our lives for over 60 years. Whether you need a silly gag gift or a unique novelty item, you can find it at Spencer's.
Who doesn't love a funny video? If you love funny videos on YouTube, you'll love DROPOUT, it's the ad-free, uncensored subscription services from CollegeHumour. They feature original unscripted videos, podcasts, digital comics, and chat stories. Get a subscription to this hilarious network today and you may find a great joke to use at your next social gathering!
Knock-knock. Who's There? If you haven't checked out the products by Knock Knock, you're totally missing out. They are independent makers of clever gifts, books, and merchandise that bring humor, creativity, and smarts to your everyday life. Check out their creative notepad checklist products like the "Paper Tantrum" and the "WTF" notes!
Are you a joker? If you like to record and track your jokes or are an aspiring comedian, you need to start writing down your jokes and punchlines in a notebook. All you need is a pocket-sized notebook from Dollar Tree to get started (or use the Notes app on your phone).
Send funny messages. Have you heard of JibJab? They create those funny, customizable animated videos where you can put your face on a cartoon body that sings and dances. They say they're on a mission to make Billions of People Happy, and they're doing a great job so far! Check it out and send a laugh to someone today!
We could all use a more humor in our lives, but remember it doesn't have to break the bank. When you create your own Free Dollar Dig Account, you can earn cashback on qualifying purchases at over 3,000 stores!
So, do you want to know the REAL reason the chicken crossed the road? It was to get cashback from Dollar Dig! (ok, that was a bit lame. We'll work on our jokes for next time!)
NOT A MEMBER YET?
It's free to join and be a member! Sign up for your account today and start earning cashback!
To get started, register for a free account with Dollar Dig, click on your unique shopping link at one of over 3000 online stores on our site (including the ones we linked in this article), order your products online like normal, then wait for your cash back. Get started saving today!

Sign up for a free account and earn cashback when you shop online!
Want to know how it works?
Dollar Dig gets paid to advertise the stores featured on our website and uses that money to pay you in cashback when you click the store link.
All you have to do is login to your Dollar Dig account, search for your favorite store, click the store link and shop as you normally would on that store's website. When you're done adding to your cart, you simply checkout and make your purchase…that's it!
Once the order processes and isn't cancelled or returned during the typical 90-day store return period (waiting periods vary from store-to-store – more details available on each Dollar Dig store page), Dollar Dig then rewards you with cashback that can be found in your Dollar Dig account.