How To Rock Your Halloween Spirit in 2021
13 Oct 2021 by Dollar Dig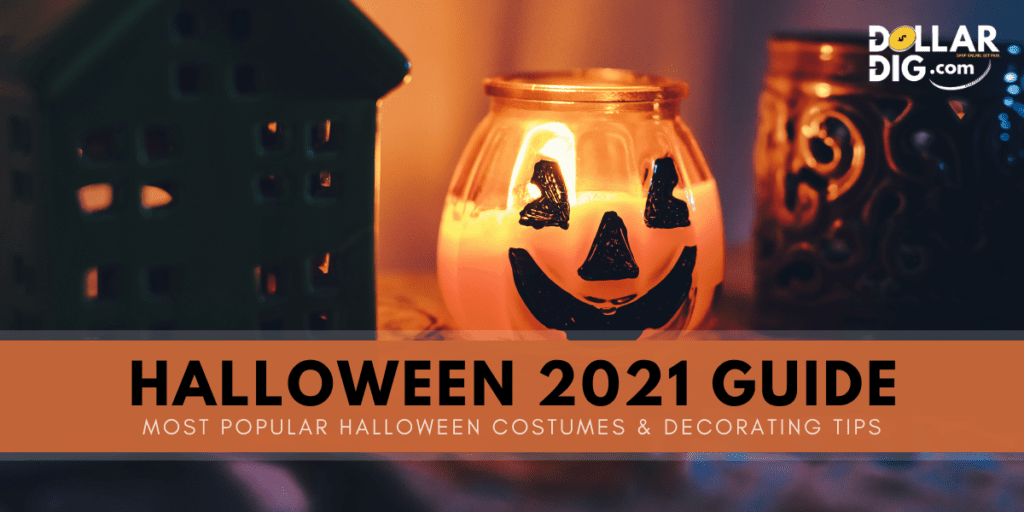 Are you the person who goes all out for Halloween with decorating and costumes, or do you turn off all the lights and hide in your house watching scary movies in the dark?
This Halloween, we're giving you permission to go all out and rock your Halloween spirit for all to see! It can be a great fun holiday where you can express your creativity before the more "serious" holiday season comes in December.
Here are some quick links and suggestions to get you in the Halloween spirit this October:
Popular Halloween Costumes for 2021 (and where to get them)
Every year the most popular costumes are usually based on popular culture and movies. This year is no exception! Here are the most popular costumes expected this year according to Google Trends:
Trending Costumes
Squid Game

Gorilla

Britney Spears

Carnage

Venom



Trending Costumes for Couples
Trixie and Timmy Turner

Bonnie and Clyde

Skid and Pump

Mr. and Mrs. Smith

Cosmo and Wanda



Trending Costumes for Babies
Squid Game

Little Red Riding Hood

Spider

Peter Pan

Addams Family



If you can't be bothered to DIY your costume from the above popular choices or your Halloween Pinterest board, you can buy some pretty fabulous ready-to-wear ensembles from the Halloween and costume stores.
Here are some of our favorite Halloween costume stores offering cashback on your purchases this year:
Halloween Decorating ideas
Decorating your home for Halloween can be so much fun. The easiest way to decorate is to head to your local dollar store and grab some cheap cobweb bags. Stretch these over plants and bushes for a quick spooky look. The dollar stores usually also have some fun Halloween decor and costume pieces too.
You can have some good fun with glow-in-the-dark paint or stickers, blacklight paint, and glow sticks. All that glowing quickly turns boring sidewalks into spooky pathways or even creepy crime scenes! Stock up on all the glow-in-the-dark and light decor when you're at your local dollar store or Halloween supply store.
Here are some stores that have decorating and Halloween-themed parties supplies:
Halloween Recipes and Treats
Having a few friends or family over for a Halloween party? Feed them spooky foods like these popular recipes (source: Google Trends):
The best part is that you can get cashback from many grocery stores, including Walmart and Kroger, when purchasing your Halloween recipe ingredients.
Go All-In This Halloween
You can go all-in for Halloween this year without breaking the bank. We know money is tight right now, but there are still many ways to partake in the Halloween spirit this month.
Don't forget that with your FREE Dollar Dig account you can earn cash back for nearly every suggestion we have on this list! Use the cashback to buy yourself some extra Halloween treats and candy to stash away for after Halloween!
NOT A MEMBER YET?
It's free to join and be a member! Sign up for your account today and start earning cashback!
To get started, register for a free account with Dollar Dig, click on your unique shopping link at one of over 3000 online stores on our site (including the ones we linked in this article), order your products online like normal, then wait for your cash back. Get started saving today!

Sign up for a free account and earn cashback when you shop online!
Want to know how it works?
Dollar Dig gets paid to advertise the stores featured on our website and uses that money to pay you in cashback when you click the store link.
All you have to do is login to your Dollar Dig account, search for your favorite store, click the store link and shop as you normally would on that store's website. When you're done adding to your cart, you simply checkout and make your purchase…that's it!
Once the order processes and isn't cancelled or returned during the typical 90-day store return period (waiting periods vary from store-to-store – more details available on each Dollar Dig store page), Dollar Dig then rewards you with cashback that can be found in your Dollar Dig account.