Tips to Keep the Kids Occupied for the Summer
06 Jul 2021 by Dollar Dig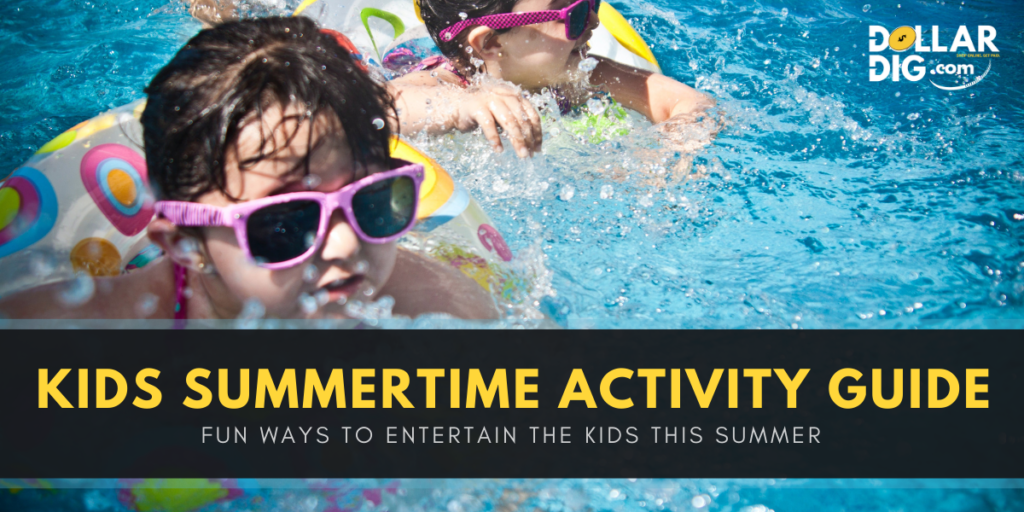 Everyone loves summer: the sun, the beach, outdoor activities, and late evenings on the patio. For parents, the summer sun means their kids are home all day, every day and entertaining them can be a struggle.
Have no fear because here are some great ways to entertain your kids this summer so you can get a little relaxation in the sun too:
Swimming and water activities
Water and summer are a match made in heaven. It's incredible how an $11 sprinkler can provide many hours of fun for our little ones. Grab your kids some water toys and water guns from the Dollar Store.
Or, if you have a pool, make maintaining it easy when you get your pool cleaning and maintenance supplies from In The Swim.
Feed the bookworms
Do you have a child who can read an entire Harry Potter book in a weekend? Stock up on some new books and feed their imagination! If you want them to get a little vitamin D too, set them up with a lounge chair or picnic blanket in the yard under a tree or patio umbrella. Don't forget their sunscreen too!
Check your local community centers and libraries too. Many are offering summer reading programs for kids where they get points and prizes for reading! It's a great way to motivate kids to read.
Make it educational
Who says summer is all fun and no work? If you've got some avid little learners in your family, get them some learning-based activity books or games to occupy them. You could also try a subscription to Kiwi Crate that offers age-appropriate art or science-themed activity boxes.
In addition to all the survival and safety gear in your hiking backpack, pack some snacks too. Pack a Ziplock bag of Battle Bars or your favorite granola or protein bar. Just be sure to pack the wrapper in your backpack, so you leave no trace of your hike behind.
Let's get physical
You've likely seen what happens when your kids are cooped inside all day without any exercise. They go bananas (and that's putting it mildly).
Encourage them to get outside in this lovely weather with a backyard trampoline. They're not like the trampolines of our youth, where we'd always fly off or get stuck in the springs. Many new trampolines are springless and come with attached safety nets to prevent that dreaded double bounce that makes you go flying off!
If you can escape from work for a day, why not take the kids out for a hike or a day at the beach? It's a great way to get the whole family out and enjoying the fresh air. Be sure to wear a hat to protect yourself from the sun. As a bonus, after a day in the sun, the whole family is likely to sleep very well!

Get away on vacation
Now that travel is opening up worldwide, and right here in our own country, maybe it's time to pack up the kids and take a vacation. Perhaps somewhere tropical, on a working-ranch, or all-inclusive resort. Or take them on a road trip of a lifetime across the country!
You can survive two months with the kids at home for summer break! With the right entertainment and activities, they'll enjoy a happy, healthy summer! When you're stocking up on those summer activities online, do it through Dollar Dig.
Dollar Dig is the most reliable cashback rebate site on the web, and you can earn one, two, five, or more percent back on every qualifying purchase. Get your free account now, or log in now to start racking up the cashback!
NOT A MEMBER YET?
It's free to join and be a member! Sign up for your account today and start earning cashback!
To get started, register for a free account with Dollar Dig, click on your unique shopping link at one of over 3000 online stores on our site (including the ones we linked in this article), order your products online like normal, then wait for your cash back. Get started saving today!

Sign up for a free account and earn cashback when you shop online!
Want to know how it works?
Dollar Dig gets paid to advertise the stores featured on our website and uses that money to pay you in cashback when you click the store link.
All you have to do is login to your Dollar Dig account, search for your favorite store, click the store link and shop as you normally would on that store's website. When you're done adding to your cart, you simply checkout and make your purchase…that's it!
Once the order processes and isn't cancelled or returned during the typical 90-day store return period (waiting periods vary from store-to-store – more details available on each Dollar Dig store page), Dollar Dig then rewards you with cashback that can be found in your Dollar Dig account.