Best Free Shipping Offers and Last-Minute Holiday Gift Buying Ideas
16 Dec 2020 by Dollar Dig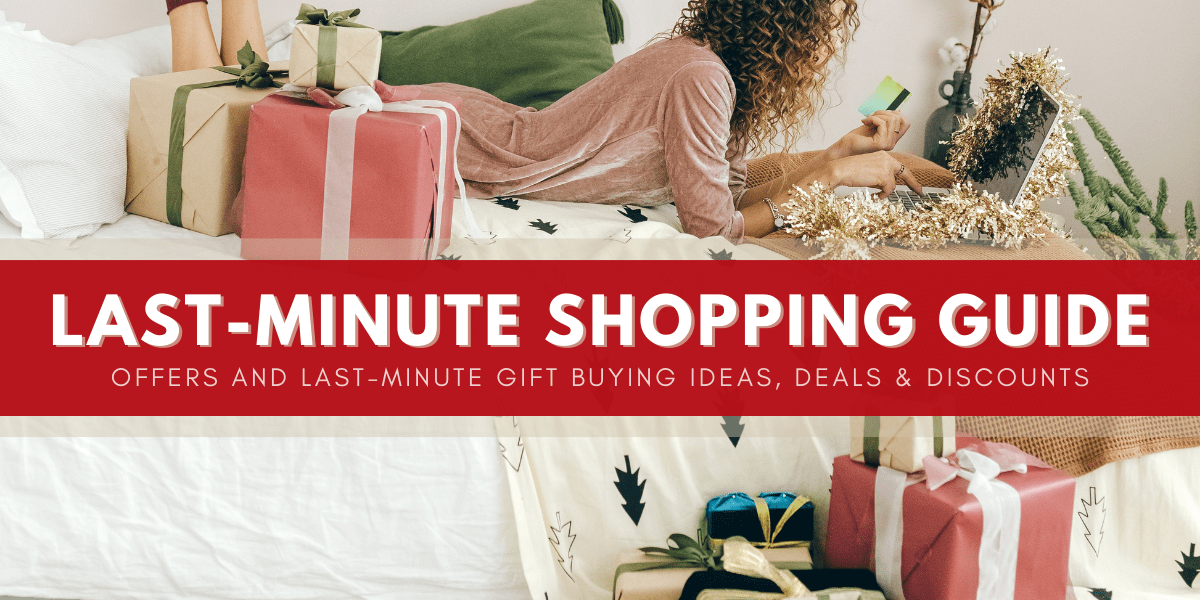 Are you a "last-minute shopper?" Do you seem to always leave your Christmas shopping to the last minute?
Whether it's just procrastination, you don't know what you buy, or you're too busy to notice that the holidays are approaching, we've got you covered. We've looked through the businesses on Dollar Dig to bring you a last-minute shopping guide that will aid in your search for every last present on your list. Many of these have free shipping* too!
Are you buying for a belly sleeper?
If your partner is a belly sleeper, they might find extra comfort in a pillow specifically designed for them by Belly Sleep. The right pillow can make the difference between tossing and turning all night and waking up with back pain, and getting deep, restful sleep and waking up feeling refreshed.
Save on your purchase with a special discount code, get free shipping and earn cashback from Dollar Dig here.
Are you buying for a food lover?
With COVID-19 restrictions, you may not be able to host dinner parties at home right now but you can treat friends and family to healthy, chef-prepared meal kits made with locally-sourced ingredients.
Each week, Real Eats delivers fresh, complete meals sealed in BPA-free plastic pouches that simply get placed into a boiling pot of water and are ready to eat within 6 minutes! Shop here for free shipping and save on your order.
Are you buying for someone busy?
Who on your list could use the help of a calendar or planner to better organize their life? Choose from a large selection of 2021 calendars and planners at Quill. With the cashback and extra savings you get for shopping through Dollar Dig, you can grab one for yourself too and start planning for 2021.
Are you buying for a trend-setter?
For the trend -setter and jewelry lover on your list, get them chic, stackable jewelry from Samfa Style. They have a wide range of earrings, rings and necklaces that can be layered with other pieces and can effortlessly go from day to night.
The more you stack, the more you save. Shop here for free shipping and cashback on your purchase.
Are you buying for a new parent?
If you know someone expecting, or with a new arrival already, they might really appreciate a baby product from 4Moms, the makers of award-winning mamaRoo, designed to make new parent's lives easier.
From motion sleep bassinets to innovative baby seats and everything in between, find the perfect baby gift because… a happy baby equals a few extra minutes of sleep (or just enough time to wash those bottles and onesies)! Earn cashback on your purchase and get free shipping by shopping here.
There's no need to worry about how much money you may be spending on your last-minute shopping because you can offset your spending by shopping through Dollar Dig. Not only will you save big with exclusive deals and coupons, you'll also get cashback on nearly every purchase! Setting up an account is quick and easy! Oh and did we mention it's free to join and be a member?
---
NOT A MEMBER YET?
It's free to join and be a member! Sign up for your account today and start earning cashback!
To get started, register for a free account with Dollar Dig, click on your unique shopping link at one of over 3000 online stores on our site (including the ones we linked in this article), order your products online like normal, then wait for your cash back. Get started saving today!

Sign up for a free account and earn cashback when you shop online!
---
Want to know how it works?
Dollar Dig gets paid to advertise the stores featured on our website and uses that money to pay you in cashback when you click the store link.
All you have to do is login to your Dollar Dig account, search for your favorite store, click the store link and shop as you normally would on that store's website. When you're done adding to your cart, you simply checkout and make your purchase…that's it!
Once the order processes and isn't cancelled or returned during the typical 90-day store return period (waiting periods vary from store-to-store – more details available on each Dollar Dig store page), Dollar Dig then rewards you with cashback that can be found in your Dollar Dig account.