Cashback Stacking: How To Maximize Your Earnings
21 Nov 2023 by Dollar Dig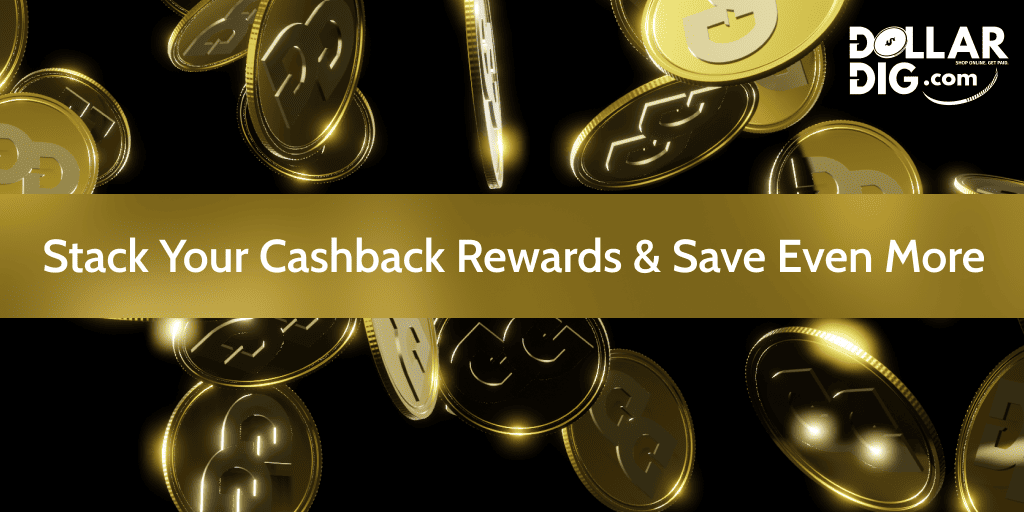 Are you looking to maximize your cashback rewards?
At Dollar Dig, we are always looking for ways to give our members the most cashback possible. One way we do this is by consistently offering the highest cash back amounts possible directly to you. In this article, we have another tip that could significantly increase your earnings. Did you know you can stack rewards from cash rewards credit cards along with your favorite cashback site? It's true! Read on to learn how you too can use cashback stacking to maximize your cash rewards.
How do I maximize my cashback benefits?
To stack cashback, you need two things. The first is a cashback site that allows you to earn cash on your purchases when you select deals and/or coupons from their site. This is exactly what Dollar Dig provides to our members, so if you're already a member, then you have the first requirement covered. If not, then sign up today! The second component required to stack is a cash rewards card.
Most major credit card companies offer cards with cash rewards. Even though the type of reward varies, they are well worth your attention to earn cash rewards for your purchases. Some credit cards offer a flat rate for all purchases, meaning you get a specific amount for all purchases. While other cards offer tiers based on specific categories. Some cards feature rotating categories that are eligible for bonuses during certain time frames. Cashback redemption is generally offered in the form of a statement of credit, check/direct deposit or can be used to purchase gift cards from your favorite stores and/or brands.
If you already have a cash rewards card, great! If not, check out CNBC's list of the best cashback credit cards available at the time of this post for guidance on selecting the best card for you based on your spending habits.
Stacking Cashback Rewards
One very powerful way to earn more cash back is to utilize a technique commonly known as "cashback stacking" or "stacking" for short. At first glance, cashback stacking may appear to be a lot like double dipping. That's because you are essentially earning rewards from multiple sources for the same purchase. However, not only is it a totally legitimate way to get more cash, it's an often encouraged and smart way to help earn you the most rewards possible.
As mentioned previously, to start stacking, simply requires two things – a cashback site and a cash rewards credit card.To put stacking into motion, visit Dollar Dig before making any purchases. Find your store of choice from our retailers page with more than 4,000 retailers that Dollar Dig partners with. Once you find the store of interest, click on the link to visit the store. Shop as normal, adding your items to the cart. At check out, use your cash rewards credit card to pay for your items. It's that simple!
Specific Category Stacking
We'll cover a card that offers a specific tier based on category in this example. Let's say your cash rewards card typically offers 2% cashback on hotel stays for traveling and you want to use Hotels.com to book your room. Stop by Dollar Dig first, click on Hotels.com's store link and then complete your booking. When checking out, pay for it with your cash rewards credit card. Now in addition to the 2% offered by your card, you have just used cashback stacking to add on an additional 4% cashback you will receive from Dollar Dig. You've just earned a whopping 6% cash by combining both sources! Not bad, huh?
Flat Rate Stacking
Here's another example of how cashback stacking can put even more cash in your pocket when you combine a cashback site and a cash rewards card. In this example, you decide to go with a flat rate cash rewards card. Flat rate cards offer more predictable earnings because they cover nearly all purchases, but they offer less cashback amounts as a tradeoff for this stability of earning. Say you need to order some much needed pet supplies from Chewy. If you just use your flat rate card, you will earn 1% cashback on your purchase when using that card at checkout. However, if you visit Dollar Dig first and click on Chewy's store link before you start shopping, you're now going to get an additional 4% added to your cash rewards. That's a total of 5% for one purchase. That's the power of stacking!
Cash Rewards Card Tip
While cash reward cards are great, they are not created equal. Here's a tip to help you maximize your rewards further. If you have multiple cash reward cards, be sure to choose the card offering the highest amount for the specific merchant/category of purchase.
As we've touched on briefly, the rewards offered by credit card varies. That's why we recommend having at least one flat rate and one category based card – it allows you flexibility when choosing your payment method to get the most benefits. Typically a flat rate card offers a lower amount of cashback because they don't restrict what categories are rewarded – all purchases get the same flat rate. While category specific cards often offer higher amounts of cashback, you don't want to miss out for purchases that don't fall under the specific category covered at the time of purchase.
We'll cover this more in-depth in the next section with regards to shopping portals. With a little due diligence, you'll find your earnings and savings accumulate much quicker on all your purchases! Did I mention it's much easier and significantly more substantial than searching for spare change in between your couch cushions?
Additional Ways to Increase Savings
While stacking is a powerful one-two punch, there are a few additional ways to increase your rewards even more. Here's a couple of other helpful tips to max out your cashback potential for all of your purchases.
Some credit card issuers have a 'shopping portal' on their site. Generally, you should be able to find it on your homepage after logging in. This portal will display a listing of special deals that are currently active. This can be in the form of bonus or rotating categories. For example, your card may offer 4% at Kohl's. But you find out through the shopping portal that they currently have a promotion offering 6% for purchases. This would be a great opportunity to get even more cashback by first visiting Dollar Dig, then clicking on the Kohl's shopping link and finally paying with that cash rewards card. By doing so, you've just stacked rewards from both, earning yourself even more cash!
Now here's where that second card comes into play. Say you visit your categories based card, but they are only offering gas and grocery this quarter – retail is not currently being offered cashback. Instead of paying with the category card and missing out on an opportunity to earn cashback, you switch to your flat rate card to pay for your Kohl's purchase. Now you are feeling great – you just scored more cash to go back into your wallet!
Dollar Dig continuously works with retailer and merchants to bring you the best promotional deals, offering you even more cashback. Dollar Dig passes the increases from promotions directly to you. To make you aware of these opportunities, we list the promotions on our website and in the newsletters. This allows you to take advantage of these opportunities when they occur. To make sure you don't miss out, check our home daily and sign up for the newsletter to be "in-the-know" and alerted as increases occur.
Wrap Up
To recap, here's your TL;DR version to maximize your cashback rewards:
Visit Dollar Dig before shopping.
Find the store and click on the link to earn cashback on your purchase.
At checkout, pay for your items with your cash rewards credit card.
There you have it – by stacking rewards from your cashback site, like Dollar Dig, along with your cash rewards credit card, you will earn the most cashback possible on your purchases. You are getting rewards from multiple sources for your purchases that really add up to significant savings over time.
We hope you've found this article helpful and informative. Take advantage of stacking to maximize your cashback by combining the generous cashback amounts from Dollar Dig in addition to the earnings from a rewards card. When using this powerful combination, you'll earn cash from both!
NOT A MEMBER YET?
It's free to join and be a member! Sign up for your account today and start earning cashback!
To start earning cashback, register for a free account with Dollar Dig. Click on the store link at one of the over 4,000 online stores on our site, purchase products like normal, and receive cashback. Don't delay, start earning cashback today!
Sign up for a free account and earn cashback when you shop online!

Want to know how it works?
By making purchases at stores you visit on our site, merchants pay us a commission. We receive the commission once the order passes the cancellation and return period. This process typically completes within 90 days the order date. Dollar Dig then uses this commission to pay your cashback reward.
To start earning cashback, all you have to do is login to your Dollar Dig account, search for your favorite store, click the store link and shop as you normally would on that store's website. Add products to your cart, complete the checkout process to receive cashback on your purchases…that's it!
For more information, please see our "How Cashback Works" page.

Start earning cashback on all your online purchases today! Signup for FREE!
Accumulate a min. of $25, request to withdraw your money and we'll PayPal it over to you!