Self-care Ideas For The Whole Family: Mental Health Awareness Month
10 May 2021 by Dollar Dig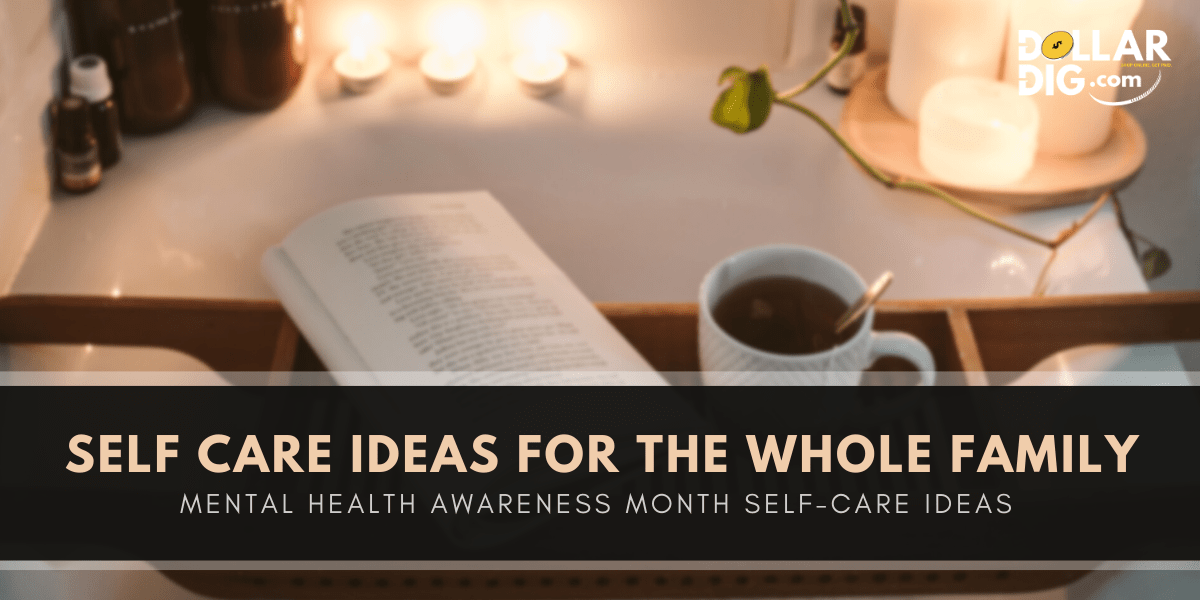 You've heard people tell you to "fill your bucket before you fill others' buckets." We've definitely been more aware of our need for self-care over the past year.
May is Mental Health Awareness Month, so today we've got some great self-care ideas for every member of your family:
Find a hobby
Do you have a hobby? If you're crafty, get all your sewing materials, general craft supplies, or a new Cricut machine online. Make something for yourself or as gifts for others. Maybe it'll turn into a mildly profitable side-hustle!
Start daily journaling and practice gratitude
Holding feelings and emotions inside can wreak havoc on your mind and body. Take time every day to journal your thoughts, feelings, wins, and struggles. Write down 3 things you are grateful for every day, and it'll give your psychological health a boost and make you more aware of the good around you.
Entertainment for the kids/teens
Even your kids and teens need a way to de-stress and just focus on being kids. Challenge your kids with a Lego building set, some Crayola art supplies, a subscription to a gaming site so they can play with their friends, or puzzles.
Family board game fun
Did you ever do family game nights as a kid? Maybe you do it now with your family or friends? There are thousands of new board games, and you can try some of them from Are You Game. Or, buy some new brain teaser games to give your mind a workout! Another option is to start a new jigsaw puzzle on your dining room table.
Gone Fishin'
If you love fishing, grab your gear and tackle box for a day on the lake. Some quiet time on the boat, riverfront, or lakefront is a great way to get some quiet reflection time in or spend quality time with a friend or family member. Be sure to make sure your tackle box is fully stocked before you go.
Get lost in a book
What was the last great book you read? Are you a fantasy fanatic or a romance lover? Grab a hardcopy book to read around the campfire this summer or download a new audiobook to listen to during your summer road trip.
Try new beverages
A great way to unwind is to try new things. Summer is a great time to try new tea, beers, or even specialty wines! Always drink responsibly!
Exercise your worries away
Exercise is good for the body and the brain. Sweat out your stress and worry with a new home gym or basic exercise equipment.
Find ways to escape life and recharge your batteries once and a while. When you feel rejuvenated, your mental and physical health will get a boost too. And, you'll be able to better support others in your life who need your support or care.
Check out all the links above to some of our favorite sites to get self-care supplies and activities for your whole family. When you have a Dollar Dig account, you can get cashback for qualifying purchases from many of the above retailers. Get your free account and start saving today!
NOT A MEMBER YET?
It's free to join and be a member! Sign up for your account today and start earning cashback!
To get started, register for a free account with Dollar Dig, click on your unique shopping link at one of over 3000 online stores on our site (including the ones we linked in this article), order your products online like normal, then wait for your cash back. Get started saving today!

Sign up for a free account and earn cashback when you shop online!
Want to know how it works?
Dollar Dig gets paid to advertise the stores featured on our website and uses that money to pay you in cashback when you click the store link.
All you have to do is login to your Dollar Dig account, search for your favorite store, click the store link and shop as you normally would on that store's website. When you're done adding to your cart, you simply checkout and make your purchase…that's it!
Once the order processes and isn't cancelled or returned during the typical 90-day store return period (waiting periods vary from store-to-store – more details available on each Dollar Dig store page), Dollar Dig then rewards you with cashback that can be found in your Dollar Dig account.