How To Organize Your Whole Life In 2021
28 Dec 2020 by Dollar Dig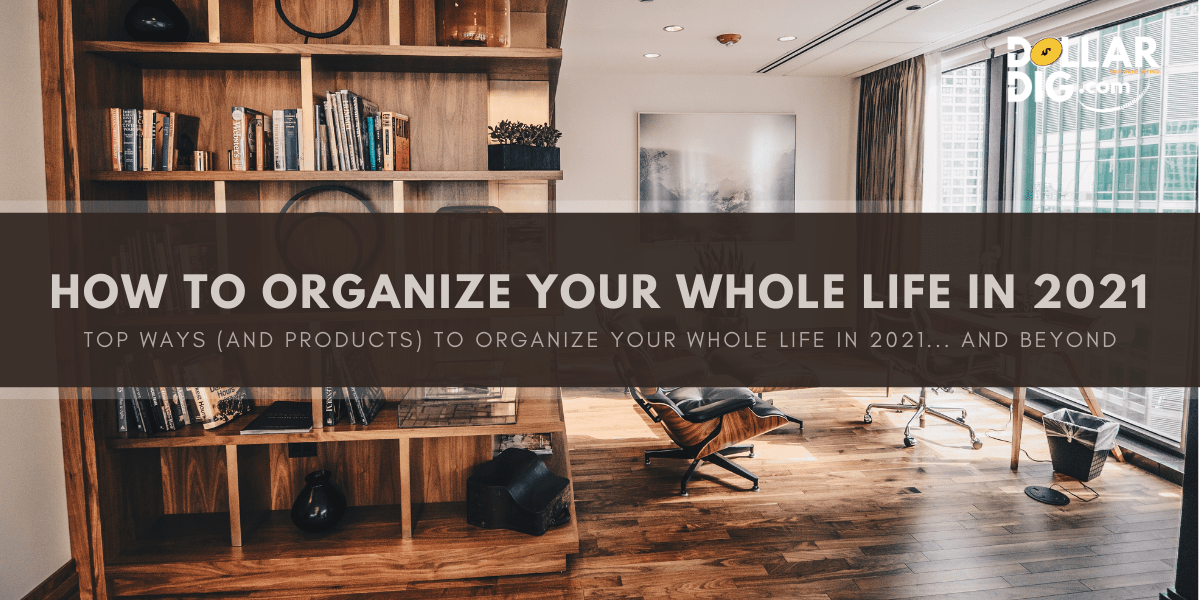 The most common New Years' resolutions are either related to health or productivity and organization. If you've got an area (or two) of life you want to organize, then this guide is for you!
Just setting a resolution or a goal isn't enough. If you want to achieve your goals you need to put in the work and create a plan to get there. Getting organized before you start working on your goals will help you succeed.
Here are our top favorite ways (and products) to organize your whole life in 2021 and beyond:
Let's organize your calendar
As your schedule gets busier, it becomes difficult to remember all your appointments, bill due dates, and kids' activities. Organize your whole family's schedules with a paper planner from Day Runner, the Franklin Planner, or a momAgenda.
Let's organize your kitchen
Is the kitchen the hub of your home? An organized kitchen means you spend less time rummaging through your drawers to find that one, tiny tool or appliance that you need.
Whether you're looking for accessories to organize your kitchen (try Kitchen Source), some new appliances to make cooking quicker and easier (like appliances from Hamilton Beach), or need a complete renovation and cabinet organization systems (from a DIY hardware store like RONA), there are so many options to reorganize your kitchen to maximize space and find what you need quickly.
Let's organize your office
If you're working from home (temporarily or permanently), make sure it's working for you. An ergonomic chair can make a huge difference after sitting it in for 8 hours a day.
Also, organize your desk so the items you need most are within arm's reach from a cabinet or shelf. If you need a new desk, filing cabinet, or office storage solution, try Office Depot, Office Designs, or OfficeFurniture2Go.com.
Let's organize your health
To reach health and fitness goals, you need dedication and organization. Get organized and track your progress using a planner from Daily Greatness USA (a maker of journals and planners for wellness, body, mind, spirit, and personal development).
Online fitness programs and products can also keep you on the right track. Some of our favorites are Aaptiv (for trainer-led, music-driven workouts), Beachbody (the maker of many popular health and fitness programs), and Fitbit (a wearable health and activity tracker).
Let's organize some fun!
Is 2021 the year you're going to spend more time on yourself? Schedule time every day or every week to do something to unwind. Perhaps you love crafting, baking, or digital gaming. Block off this time in your calendar so you don't "forget" about it.
The whole world is watching in anticipation to see what 2021 will bring. Don't forget that only you can control if and when you reach the goals you set on December 31. Plan and organize these areas of your life to jumpstart your success!
And…if saving money is on your New Years' Resolution list, you can do that when you purchase from a participating store on Dollar Dig. SIGN UP for your FREE account and shop using your unique shopping links at over 3,000 popular online stores around the country. After you complete your qualified purchase you get cashback!
Achieving your New Years' Resolutions can be easy and fun…when you get organized and get cashback from Dollar Dig!
---
NOT A MEMBER YET?
It's free to join and be a member! Sign up for your account today and start earning cashback!
To get started, register for a free account with Dollar Dig, click on your unique shopping link at one of over 3000 online stores on our site (including the ones we linked in this article), order your products online like normal, then wait for your cash back. Get started saving today!

Sign up for a free account and earn cashback when you shop online!
---
Want to know how it works?
Dollar Dig gets paid to advertise the stores featured on our website and uses that money to pay you in cashback when you click the store link.
All you have to do is login to your Dollar Dig account, search for your favorite store, click the store link and shop as you normally would on that store's website. When you're done adding to your cart, you simply checkout and make your purchase…that's it!
Once the order processes and isn't cancelled or returned during the typical 90-day store return period (waiting periods vary from store-to-store – more details available on each Dollar Dig store page), Dollar Dig then rewards you with cashback that can be found in your Dollar Dig account.