Going Back-To-School: A Parent's Survival Guide
13 Aug 2021 by Dollar Dig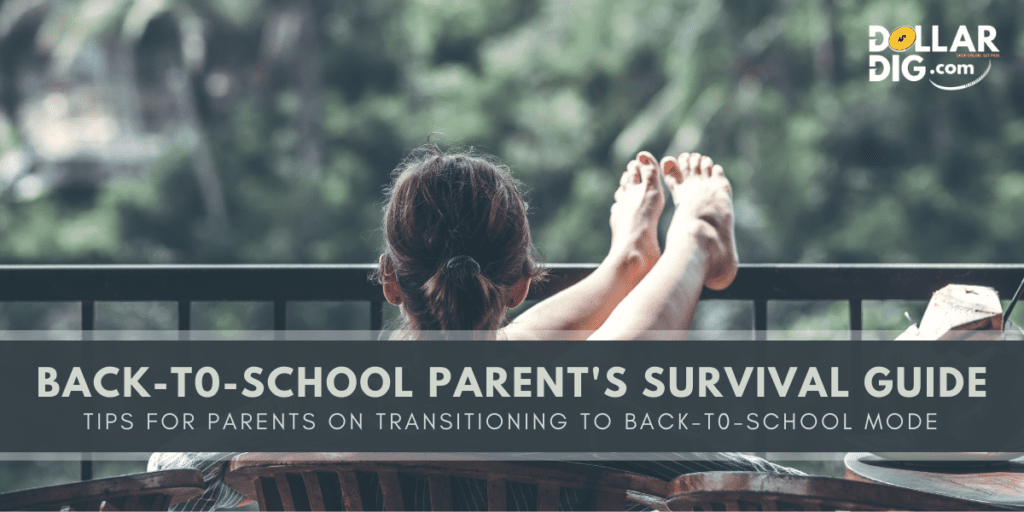 There are two types of parents: those who dread back to school and shopping, and those who love it better than Disneyland! Which type of parent are you?
As kids begin returning for the 2021-22 school year, things are still looking slightly different, but that doesn't have to stress you out!
Here are our tips for managing the transition back to school this year:
Children's safety
Keeping our children safe can be a daunting task when we send them out into the world without us. If your children are walking or biking to and from school on their own, you want to do everything you can to keep them safe and know where they are at all times.
If your kids have a smartphone, you can add tracking software (like Find my Phone from Apple), so you always know where they are and reach them for emergencies. If not, get an Amber Alert GPS device that allows for real-time GPS tracking, custom alerts, and 2-way voice communication (to remind your kid to come home for dinner or use for emergency communication).
Snack and lunch ideas
There is a popular meme that goes around every August. It goes something like this:
"I'm not sure how my kids are going to survive returning to school without 6 breakfasts, 2 lunches, and 367 snacks a day." 
To help with the transition to 1-2 snacks and a lunch per day, provide delicious options in their lunch bag, including:
Bento boxes (get sectioned containers and add different finger foods and snacks in each compartment)




Cheese and crackers (let your kids pick their favorite crackers and cheeses)




KIND snacks (this company uses nutrient-dense premium ingredients in their over 70 snacks)




PeaTos snacks (these are "junk food" style snacks made from peas and are tastier than all your kid's favorite junk foods!)



Homework
After a year of disrupted learning environments and extra distractions, some kids may be slightly behind in their core competencies for their grade level. If they need a little extra practice in certain areas, programs and resources from Evan-Moor Educational Publishers can help them get the extra practice they need to catch up.
If your children are homeschooled this year, don't stress about learning plans and activities and get everything you need from Knowledge Box Central to win the "Best Teacher" award with your kids. Sites like this make it easier for any parent to homeschool.
Reclaim the dining room table this year with new, dedicated homework desks for your older children. Look in stores like Ashley Homestore, Overstock, or even Walmart to find kid-or teen-sized desks and chairs for their homework corner.
Family schedules
For many parents, the return of the school year often means the return of the busy family calendar. Between extra-curricular activities, clubs, and appointments, parents can now choose between hardcopy planners and organizers (like from Day-Timer, Franklin Planner, or momAgenda) or sharable digital calendars through Apple or Google.
How to survive back-to-school as a parent
Surviving back to school as a parent can be less stressful when you plan and get organized at the start of the school year. Involve your older children more in decisions about buying clothes, furniture, and lunches.
Our biggest tip is to buy what you can from online retailers who have partnered with Dollar Dig to give you cashback. You get 1-10% or more back in cash for every qualifying purchase through Dollar Dig affiliated company! Sign up or log in now to start saving money (and stress) on back-to-school shopping this year.
NOT A MEMBER YET?
It's free to join and be a member! Sign up for your account today and start earning cashback!
To get started, register for a free account with Dollar Dig, click on your unique shopping link at one of over 3000 online stores on our site (including the ones we linked in this article), order your products online like normal, then wait for your cash back. Get started saving today!

Sign up for a free account and earn cashback when you shop online!
Want to know how it works?
Dollar Dig gets paid to advertise the stores featured on our website and uses that money to pay you in cashback when you click the store link.
All you have to do is login to your Dollar Dig account, search for your favorite store, click the store link and shop as you normally would on that store's website. When you're done adding to your cart, you simply checkout and make your purchase…that's it!
Once the order processes and isn't cancelled or returned during the typical 90-day store return period (waiting periods vary from store-to-store – more details available on each Dollar Dig store page), Dollar Dig then rewards you with cashback that can be found in your Dollar Dig account.