Essential Gear for a Memorable Summer Camping Trip
25 Jun 2021 by Dollar Dig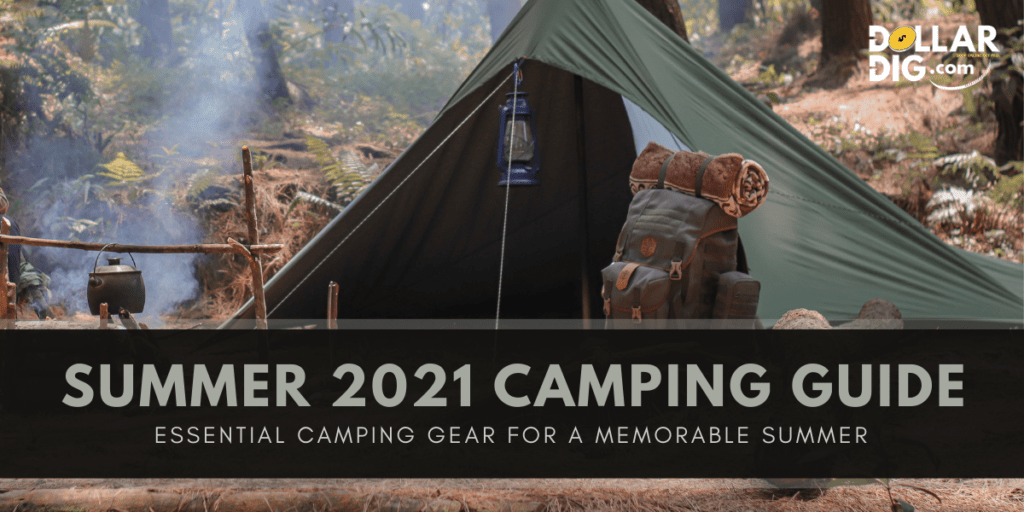 Are you excited about the Summer camping season?
As you're preparing for your upcoming summer camping trip, you may discover that your gear needs replacing or it's time to upgrade. Here is our summer camping essentials guide:
Camping Gear
Your first gear-up stop should be at a large retailer like Cabela's. Browse their online shop and see what gadgets, tents, sleeping bags, and other outdoor gear you need for your upcoming adventure.
Then, once you've packed your tent and camp stove, don't forget your air conditioner. Yep, you heard right! Icy Breeze makes a portable, battery-powered air conditioner that doubles as a cooler! It's enough to take the heat off in the tent or RV at night!
RV Accessories
Before you warm up the RV for the season, stock up on all your RVing gear and camping essentials from Camping World's website. If 2021 is the year you buy your first (or next) RV or travel trailer, Camping World has you covered too with RV Sales, Service, and Rentals at over 85 of their nationwide locations.
For lounging outside your RV, you're going to want a comfy camp chair. Everywhere Chair has the largest selection of portable and foldable chairs on the internet, including beach chairs, backpack chairs, deck yard chairs, folding rocking chairs, and hammocks.
Hiking Essentials
Have you ever gotten a blister from hiking in old shoes? Get a good pair of new hiking boots before you go trekking this summer. Be sure to go on some shorter, local hikes to help break them in before your big summer hike.
In addition to all the survival and safety gear in your hiking backpack, pack some snacks too. Pack a Ziplock bag of Battle Bars or your favorite granola or protein bar. Just be sure to pack the wrapper in your backpack, so you leave no trace of your hike behind.
Family Fun
Are you heading camping or into the great outdoors with the family? Maybe you'd like to pop a brand new canoe or kayak to the roof rack. Heading out on the water seems like the perfect way to unwind and escape from the world for a few hours.
Do you like to play games with your family? Pack a few new board games in the RV before you head out this summer. There are some great new games on the market, but don't forget the good old favorites like Go Fish, Yahtzee, or Pictionary.
Backpacking Adventuring
Is your summer adventure leading you into the backwoods? Gear up for the trip of a lifetime with gear from AVToyBox. They carry all the tactical and survival gear you'll need to survive a weekend up the mountain or in the deepest forests. Or, sign-up for a subscription box from BattlBox and get a handpicked survival, tactical, or EDC gear item every month.
This summer, we challenge you to go on an "unplugged" camping trip where you put away your phones and devices and focus on some good old-fashioned outdoor fun with your family and friends. It's the destressing trip you've been craving!
However, before you unplug, make sure you use your phone or computer to purchase all the outdoor and camping gear you need through your Dollar Dig account. Get your free account, then shop for all your gear through the Dollar Dig site. Then, you'll earn cashback on all your summer camping gear essentials.
NOT A MEMBER YET?
It's free to join and be a member! Sign up for your account today and start earning cashback!
To get started, register for a free account with Dollar Dig, click on your unique shopping link at one of over 3000 online stores on our site (including the ones we linked in this article), order your products online like normal, then wait for your cash back. Get started saving today!

Sign up for a free account and earn cashback when you shop online!
Want to know how it works?
Dollar Dig gets paid to advertise the stores featured on our website and uses that money to pay you in cashback when you click the store link.
All you have to do is login to your Dollar Dig account, search for your favorite store, click the store link and shop as you normally would on that store's website. When you're done adding to your cart, you simply checkout and make your purchase…that's it!
Once the order processes and isn't cancelled or returned during the typical 90-day store return period (waiting periods vary from store-to-store – more details available on each Dollar Dig store page), Dollar Dig then rewards you with cashback that can be found in your Dollar Dig account.