The Essential Super Bowl Sunday Shopping List
28 Jan 2021 by Dollar Dig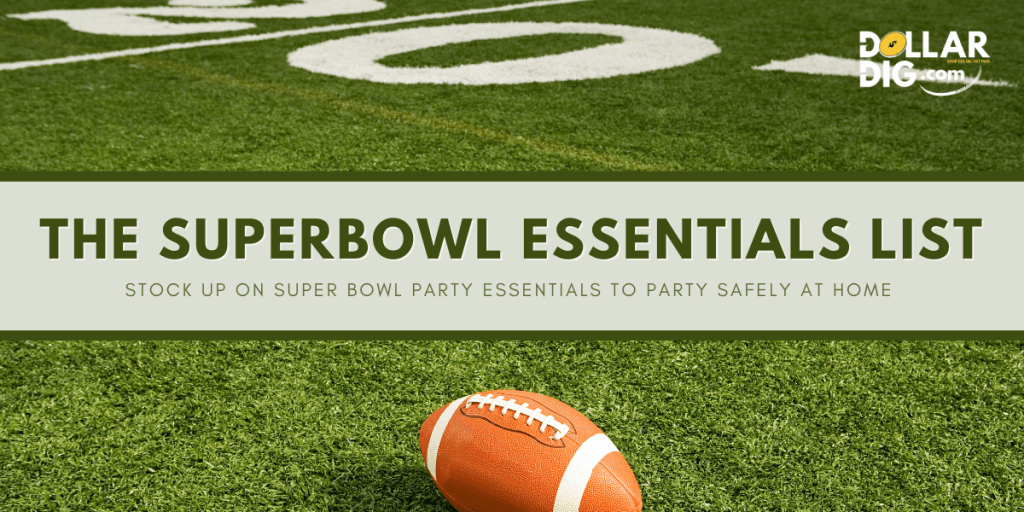 Is Super Bowl Sunday a more anticipated holiday than Christmas in your home? This year you probably aren't going to cram into your local pub or sports bar to watch the game. You're probably going to celebrate in smaller groups at home, but it doesn't mean the celebration needs to be any quieter!
Today we're sharing the essential Super Bowl Party shopping list so you can stock up on everything you need to party safely at home while cheering on your favorite team!
Get ALL the Food
When you hear the words "Super Bowl party," do you imagine a huge spread of food? We sure do! Make sure you have snacks throughout the day (chips, cheezies, chocolates) and a few healthy ones too (think vegetable and fruit platters).

For the main course, we suggest something meaty and grilled to perfection on your new BBQ. Grab some burgers and/or hotdogs for classic Super Bowl tailgating food, but maybe you want to experiment with a slow-roasted beef roast, bacon-wrapped anything, or kebobs!

Feeling adventurous? Try your hand at some secret recipes from some of America's top restaurants.

Wash it down with…
Beeeeeeer of course! What football game is complete without beer! You can even get your favorites delivered to your door from Saucey, the #1 alcohol delivery service in America.

To stay hydrated on Super Bowl Sunday, consider making sure you've got some water or even a Gatorade sports drink beverage so you're not just drinking all day! If you anticipate drinking a bit more that day, pre-stock up on some hangover cure-aids from your local pharmacy.

If you plan to enjoy an alcoholic beverage or two, or three, for the Super Bowl, we'd like to diligently remind you to drink responsibly and not to drink and drive.
Go BIG or Go Home (aka your TV)
Who wants to watch the biggest sporting event of the year on a tiny 30-inch TV? You've been thinking about upgrading your TV for a while, so why not now? A good TV and TV sound system will enhance your viewing experience!

Oh, Whatever Shall You Wear?
On Super Bowl Sunday there is just one dress code: wear a team jersey! Period!

Ideally, your choice of jersey will show your support for the team you want to win, but any sports jersey will generally be accepted!
Need a TV-break?
If you need something to do before the game, or during half-time consider buying a 2 or more player sports-themed game for your gaming console, or a more traditional team board game. If you have a small group of family or friends over for the game, having a couple of games handy can help you fill up your day and get you some time away from the screen!


Before you buy anything for your Super Bowl party this year, check if it's available through a participating company on Dollar Dig. When you purchase online through your unique Dollar Dig referral code and account, you may qualify for cash back on your purchase. Just imaging getting PAID to shop and watch the Super Bowl!
Now that your shopping list is done, who will you be cheering for on Feb 7? Are you a Kansas City Chiefs or a Tampa Bay Buccaneer fan?

NOT A MEMBER YET?
It's free to join and be a member! Sign up for your account today and start earning cashback!
To get started, register for a free account with Dollar Dig, click on your unique shopping link at one of over 3000 online stores on our site (including the ones we linked in this article), order your products online like normal, then wait for your cash back. Get started saving today!

Sign up for a free account and earn cashback when you shop online!
Want to know how it works?
Dollar Dig gets paid to advertise the stores featured on our website and uses that money to pay you in cashback when you click the store link.
All you have to do is login to your Dollar Dig account, search for your favorite store, click the store link and shop as you normally would on that store's website. When you're done adding to your cart, you simply checkout and make your purchase…that's it!
Once the order processes and isn't cancelled or returned during the typical 90-day store return period (waiting periods vary from store-to-store – more details available on each Dollar Dig store page), Dollar Dig then rewards you with cashback that can be found in your Dollar Dig account.