Shop All This Month To Support Autism Acceptance
31 Mar 2021 by Dollar Dig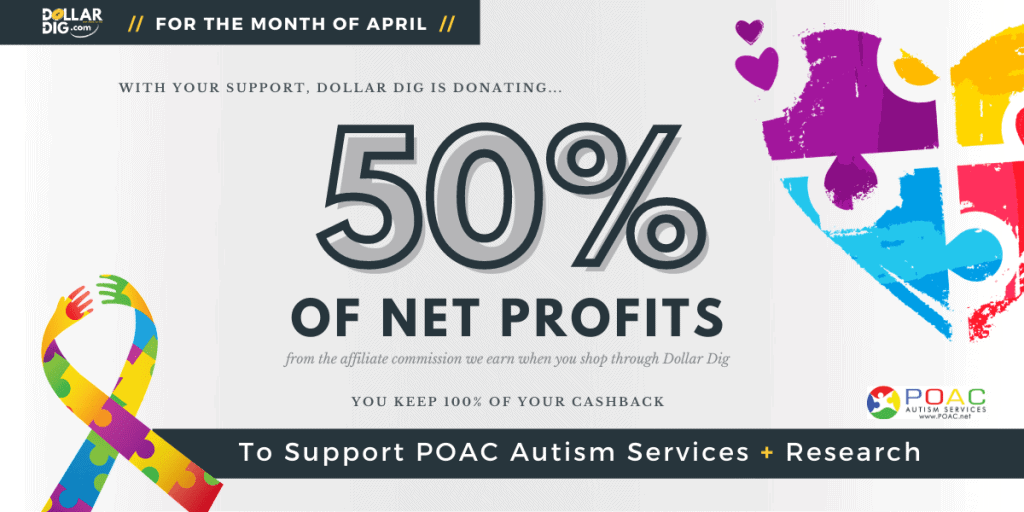 April is Autism Acceptance Month and Dollar Dig will donate 50% of our net profits in April again this year to a wonderful Autism non-profit organization committed to supporting children with Autism and their families.
Every time you make a qualifying purchase through a Dollar Dig at a participating retailer, in addition to the cash back you receive, Dollar Dig receives a small commission. For the month of April, we're donating 50% of our net profits to the POAC Autism Services, a non-profit organization based out of New Jersey.
Raising acceptance of Autism
Autism is a life-long developmental disability, often diagnosed in childhood, and can impact social skills, communication, relationships, and self-regulation. There is no known single cause of the disability, but early diagnosis provides more opportunities for the person to get the support and services they need to live a full life.
The Autism Society has posted some incredible statistics on the disability:
1 in 54 people are on the Autism spectrum disorder




Over 3.5 million Americans currently live with an Autism spectrum disorder




Autism services cost the US $236 billion each year




Lifelong care can be reduced by ⅔ with early diagnosis and intervention




It costs $8,600 extra per year to educate a student with Autism



About POAC Autism Services
POAC Autism services is a 501(c)3 non-profit organization supports children with Autism. They facilitate events, training for parents, recreation and support services, and training to help police and first responders better support children with Autism.
POAC also provides support for children and their families. In New Jersey, where this organization is based, 1 out of every 34 children is born with Autism.
POAC is helping make the lives of those with Autism easier. They believe that can help children and adults with Autism achieve their fullest potential. But, they need our help to do it.
How You Can Help
When shopping online, simply visit Dollar Dig and make your purchases through the store link found on our website. Every time you make a qualifying purchase at a participating retailer through Dollar Dig all month long in April, not only will you receive 100% of your cashback, Dollar Dig will, in addition, donate 50% of the net commission earned when you click through the store's affiliate link found on our website.

Make sure you've signed up for your FREE Dollar Dig account. Once you're logged in, search for your store and click the link. You will then be automatically redirected to that store's website. Shop as you normally would and check out.
Once you make your purchase, allow time for your order to process and 100% of your cashback to arrive in your Dollar Dig account. Half of the commission, net profits, we receive from the store where you made your purchase through our website will be donated to POAC Autism Services at the end of the month of April.
Other ways to show your support
You can also make an additional donation directly to POAC Autism Services directly at POAC.net and if you'd like to donate the cashback you receive from Dollar Dig, you can choose to do so by sending us a message and letting us know.
Another way you can help is to spread the word about Autism Acceptance Month. Tell your friends and family and invite them to join us in making this year's donation our biggest yet.
If you've been looking for a cause to support this year, shop with confidence knowing your purchase will help make a difference in a child's life with Autism.
Get paid to shop and help support a great cause at the same time! Together, we can make a difference.
NOT A MEMBER YET?
It's free to join and be a member! Sign up for your account today and start earning cashback!
To get started, register for a free account with Dollar Dig, click on your unique shopping link at one of over 3000 online stores on our site (including the ones we linked in this article), order your products online like normal, then wait for your cash back. Get started saving today!

Sign up for a free account and earn cashback when you shop online!
Want to know how it works?
Dollar Dig gets paid to advertise the stores featured on our website and uses that money to pay you in cashback when you click the store link.
All you have to do is login to your Dollar Dig account, search for your favorite store, click the store link and shop as you normally would on that store's website. When you're done adding to your cart, you simply checkout and make your purchase…that's it!
Once the order processes and isn't cancelled or returned during the typical 90-day store return period (waiting periods vary from store-to-store – more details available on each Dollar Dig store page), Dollar Dig then rewards you with cashback that can be found in your Dollar Dig account.