Don't Leave Thanksgiving For Last Minute… Start Planning NOW.
02 Nov 2021 by Dollar Dig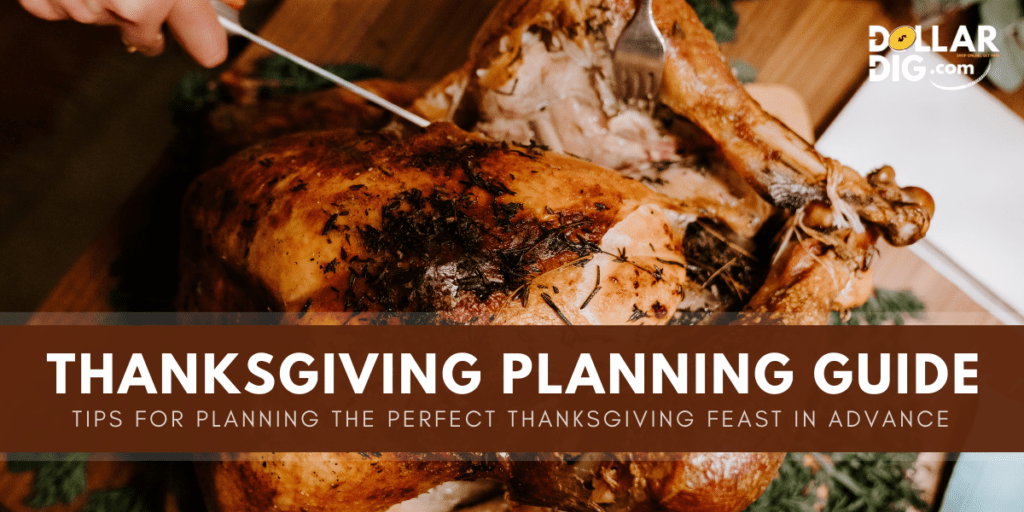 We've all seen the people rushing into the grocery store on Thanksgiving morning in a desperate attempt to grab a turkey for dinner. Don't be THAT person this year, and start planning your Thanksgiving feast in advance.
Here are some tips to help you plan the best Thanksgiving ever:
Hunt your own turkey
If you have an avid hunter in the family, consider hunting your own game for Thanksgiving (just remember to follow your local rules and regulations). It could be a great way to spend quality time with friends and family in the great outdoors. Montana Decoy Co carries a wide range of hunting decoys and gear to get you ready or you can simply buy a frozen turkey from your local supermarket.
When cooking your turkey, did you know you can cook it a day in advance? This is a great way to minimize the stress of coordinating cooking times for a dozen dishes. Just cook your bird the day before and reheat it in the oven on Thanksgiving at 375o for 45-60 minutes.
Don't feel like cooking Thanksgiving dinner this year? Go to Omaha Steaks and order a custom, fully-cooked Thanksgiving turkey meal complete with classic freezer-to-oven sides and desserts to choose from.
Cook with good cookware
If your cookware is getting old and chipped, it might be time to invest in a new set for your Thanksgiving dinner feast. We like 360 Cookware because it's made right here in the US in West Bend, Wisconsin, and they don't use any chemicals in their manufacturing process, yet you still get heirloom-quality cookware and bakeware with a beautiful mirrored finish.
Pre-set the table
Make a great impression on your guests with a formal table setting. Your table is one of the easiest things to do in advance (even days in advance if you want). Set out your freshly ironed holiday linens (tablecloth and cloth napkins) and set your flatware, dishes, and glasses in place.
Add personalized touches with crafted name cards and a beautiful fresh centerpiece made from a cornucopia of fresh branches and berries from outside.
Set the mood with scents
Put your guests in the mood the second they walk through the door with a fabulously smelling home. Nothing says Fall or Thanksgiving like a home spelling of apple pie, pumpkin spice, or rustic pine. Light a candle or diffuser with your favorite fall and holiday scents. 
Must-have Thanksgiving Recipes
You've likely got many family and traditional Thanksgiving recipes that your family love. We like to try one or two new recipes every year. Here are a few traditional family favorites to try this year:
Don't forget to do your Thanksgiving dinner shopping in advance through Dollar Dig merchants so you can get cash back on your purchases. Whether you need groceries and ingredients, new decor or dishes, or supplies to craft the perfect centerpieces, you can find them all online through Dollar Dig this Thanksgiving and holiday season.
NOT A MEMBER YET?
It's free to join and be a member! Sign up for your account today and start earning cashback!
To get started, register for a free account with Dollar Dig, click on your unique shopping link at one of over 3000 online stores on our site (including the ones we linked in this article), order your products online like normal, then wait for your cash back. Get started saving today!

Sign up for a free account and earn cashback when you shop online!
Want to know how it works?
Dollar Dig gets paid to advertise the stores featured on our website and uses that money to pay you in cashback when you click the store link.
All you have to do is login to your Dollar Dig account, search for your favorite store, click the store link and shop as you normally would on that store's website. When you're done adding to your cart, you simply checkout and make your purchase…that's it!
Once the order processes and isn't cancelled or returned during the typical 90-day store return period (waiting periods vary from store-to-store – more details available on each Dollar Dig store page), Dollar Dig then rewards you with cashback that can be found in your Dollar Dig account.