Your Ultimate Holiday Gift Guide for 2020
25 Nov 2020 by Dollar Dig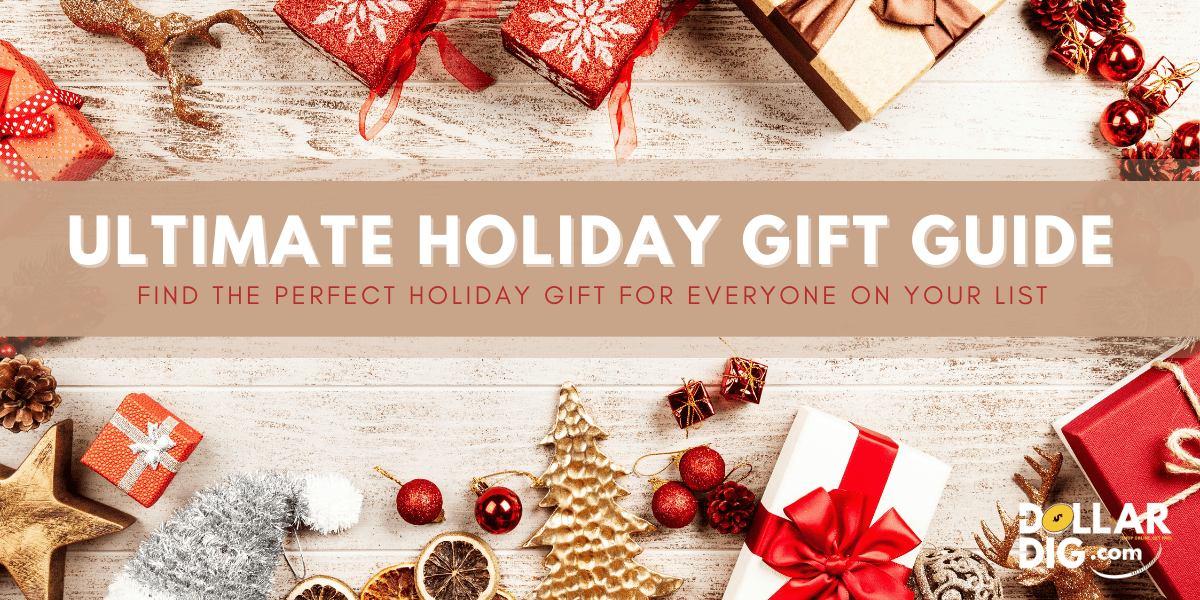 The year went by in a whirlwind, didn't it? It's nearly the holiday and Christmas season and we bet 99% of you haven't finished (or even started) your gift shopping yet! That's ok because we've put together our Ultimate 2020 Holiday Gift Guide!
No matter the person or reason for the gift, we've got you covered with some amazing ideas and unique shopping ideas:
How To Pick the Perfect Gift
We've all got those hard-to-buy-for people on our list. These are the people who seem to already have everything! Here are a few questions to help you find the perfect gift for anyone on your list:
learn a new language. If you know they've always wanted to vacation in Italy or France, they can learn the language now so when they get to these exotic locations they can navigate around town and order food like a local!
Give the gift of peaceful sleep
If you haven't tried one yet, it may be one of the best sleep inventions ever! A weighted blanket helps kids and adults get a better night's sleep through something called deep touch pressure therapy. The light pressure from the blanket helps to release the serotonin, the "happy hormone" in the brain, helping you get a sense of calm and sleep better at night.
Give the gift of art
Turn your recipient's favorite photograph into a unique piece of wall art or canvas art. Maybe you can immortalize a favorite family pet, a wedding or family picture, or a favorite vacation picture.
Give the gift of art (for the kids)
Kids create the purest and imaginative art on the planet! Give the kids on your list a head start in their art career with art supplies from Crayola. Whether it's pens and paper or silly putty, kids love Crayola under the tree at Christmas (and their parents will too!)
Give the gift of chocolate
Giving chocolate isn't exactly a revolutionary idea, but with a store like Chocolate.com that has over 5000 chocolate products to choose from, you can probably find something special! And you get a bonus knowing that most of the shops you're buying from on their site are family-owned!
Give the gift of something quirky
You never know what fun surprises and gifts you can find at online novelty stores like Fun.com. Lots of great finds here including new or nostalgic board games, branded gifts, collectables, home and office decor, or some tacky matching holiday sweaters!
Another store to find some one-of-a-kind gifts is Knock Knock. They've got some great notepads like the "Groceries and Shit Make-a-list Pad" and the "WTF Sticky notes" that are sure to elicit at least a tiny giggle out of your recipient.
Give the gift of a star
Show someone they're the brightest star in your life by naming a real star after them. Use the International Star Registry to name a star in their honor! It's a gift that'll last for lightyears!
Give the gift of ALL the stars
If your gift recipient is looking for a new hobby and is already a fan of the stars and space, maybe they'll love a telescope to explore the stars from the comfort of their home. It's also a great hobby for someone who's spending more time at home lately due to the pandemic.
Give the gift of gourmet beans
Have you tried the barf, grass, or snot flavored jelly belly jellybeans yet? If that makes your recipients tummy roll, Jelly Belly has "normal" gourmet flavors like lemon, pear, bubble gum, and over 50 "true-to-life" flavors to choose from. They also have gourmet chocolate, gummies, sour candies, confections, and jellybean gifts to choose from.
Give the gift of gamer subscription box
Subscription boxes are all the rage this year and for the gamers on your list, get them a gamers subscription to service like Loot Crate. Every month your recipient will receive a box full of expertly curated swag from their favorite game, movie, or theme.
Give the gift of a unique wood carving
Wood is traditionally a 5th wedding anniversary gift, but who wouldn't appreciate a new modern, wood phone case this Christmas? Carved makes one-of-a-kind wood and resin phone cases that are sure to be a conversation starter each time you pull it out of your pocket.
Give the gift of remote pet love
Get your furry kids (aka your dogs) the Furbo Dog Camera under the tree this Christmas. This camera allows you to see, talk, and toss treats to your pets remotely when you're not home. Your pet will love the extra love!
Give the gift of music
Music can instantly affect and influence your mood (that's probably why Hollywood music directors and composers get paid the big bucks). A custom music box with a song from your childhood or a special life occasion like a wedding can instantly take you back to those moments.
Give the gift of holiday cheers
Do you have a beer lover on your list? Home-brewing is an economical way to stock your beer fridge! Give someone a home brewing kit so they can try their hand at the perfectly unique handcrafted brew!
Give the gift of Legos
Lego never goes out of style, no matter your age. Whether you've got kids or kids-at-heart on your list there is a Lego playset or model building kit for everyone at the Lego store.
Give the gift of streaming
Does your recipient love to listen to music? A subscription to a music streaming service like SiriusXM is a great idea to give them ad-free tunes and podcasts wherever they go.
For the football lovers in your life, they might love to watch all NFL games live with a streaming subscription from NFL.com. You could also give them credit to use for their favorite movie rental service too (there's a LOT to choose from including Redbox).
Give the gift of meaty goodness
The meat-lovers in your life might love some fresh beef delivered from local, family farms. FarmFoods Market delivers fresh beef products anywhere within the US. Just make sure they has a freezer in case they can't eat it right away!
Give the gift of comfy feet
Who on your list could use a new pair of shoes? The men on your list might love Foresheim shoes, a brand that's been delivering quality shoes for over 117 years. They must be doing something right!
For women, give them shoes from Madison Style, named "one of the best shoe stores in the world" as by Italian Vogue. Keep an out for special promos and coupon codes here.
Other Gift Ideas For Your Loved Ones
Don't forget that holiday gifts don't have to be physical things. Even something personal like a Zoom or phone call is a great present. You could even offer to cook them a special meal or babysit their kids for a night.
No matter how you choose to tell your friends and family you appreciate them this holiday season, be sure to let them know how much they mean to you. It's been an odd year and the best gift you can give someone is to express your gratitude.
And, if you plan to do your holiday gift shopping online to avoid the malls this year, don't forget to shop through Dollar Dig so you can get cash back on many of your purchases. It's not too late to get started and it doesn't cost anything to become a Dollar Dig member. Signup today for a free account… it only takes a minute!
Holiday shopping can be easy and stress-free and when you do your online shopping through Dollar Dig, you can earn some cash to buy yourself a little something too!
---
NOT A MEMBER YET?
It's free to join and be a member! Sign up for your account today and start earning cashback!
To get started, register for a free account with Dollar Dig, click on your unique shopping link at one of over 3000 online stores on our site (including the ones we linked in this article), order your products online like normal, then wait for your cash back. Get started saving today!

Sign up for a free account and earn cashback when you shop online!
---
Want to know how it works?
Dollar Dig gets paid to advertise the stores featured on our website and uses that money to pay you in cashback when you click the store link.
All you have to do is login to your Dollar Dig account, search for your favorite store, click the store link and shop as you normally would on that store's website. When you're done adding to your cart, you simply checkout and make your purchase…that's it!
Once the order processes and isn't cancelled or returned during the typical 90-day store return period (waiting periods vary from store-to-store – more details available on each Dollar Dig store page), Dollar Dig then rewards you with cashback that can be found in your Dollar Dig account.