How To Spread The Love On Valentine's Day
08 Feb 2021 by Dollar Dig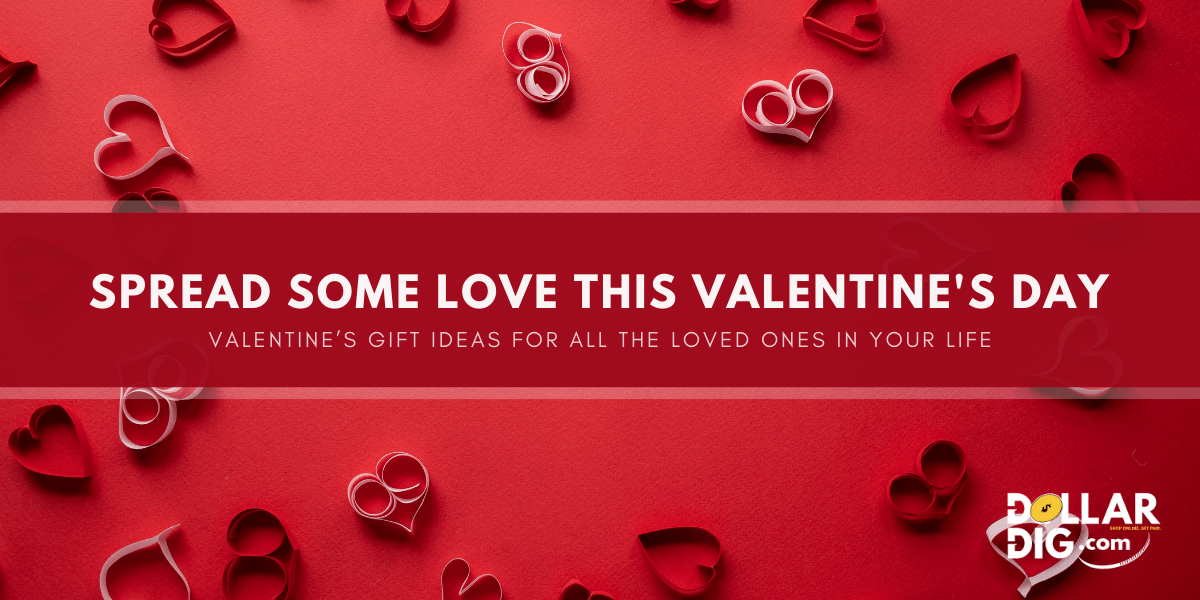 Whether you celebrate Valentine's Day or "Gal-entines Day" everyone deserves to get splurged on this year! You can buy for your lover, your best friend, a family member, your children, a neighbor, or even your child's teacher!
Everyone deserves love and a thoughtful gift is a great way to show your appreciation for them this year.
Here are some great Valentine's gift ideas for all the loved ones in your life:
For the traditionalist
If you've ever tried to buy flowers on Valentine's Day or Mother's Day at the grocery store, you've likely been met with disappointment as they were sold out. If you are a traditionalist and want to buy your loved one flowers, order them online to be delivered directly to their home.
Here is a big list of online florists to choose from.
For the chocolate lover
Another traditional pick for Valentine's Day gifts for him or her is chocolate! I don't think the kids will turn down a tasty Valentine's treat either!

Here is a big list of chocolate and sweets shops to drool over!
Add a little spice for your valentine
If your bedroom needs little spice or heat, try some adult toys and lingerie for your Valentine. Dollar Dig features several stores to help you add some spice to your love life! See if anything piques your curiosity from Adam and Eve, Ella Paradis, or Spicy Legs.
Give your loved ones some bling
If there was a year to buy your loved one a new piece of jewelry, this is the year! After being cooped up at home for so long, we could use a change of scenery, and a new shiny bracelet, necklace or statement jewelry piece might do the trick!

Here is a big list of online jewelry stores for your Valentine.
Thank your child's teacher
If your child is back in school this year, show your appreciation for their teacher. A thoughtful gift for the teacher who doesn't need any more mugs or trinkets might be a gourmet baked gift from Bake Me a Wish.
If you're homeschooling this year, show your appreciation for YOURSELF! This past year many parents have learned how tricky it can be to homeschool children. You deserve to treat yourself for Valentine's Day. Maybe you can splurge on a new handbag or a monthly subscription box like the Allure Beauty Box.
Valentine's Day isn't just about your significant other. It's about showing the love far and wide to show others that you appreciate them. This year we could all use a little more love from our friends, colleagues, and neighbors. We challenge you to do something special for Valentine's Day for someone who has affected your life this past year.
Valentine's Day doesn't have to break the bank either. When you sign up for a free Dollar Dig account you can get cashback on many of your Valentine's Day gift purchases.
To get started, sign up for a free account and shop through your Dollar Dig dashboard. You'll be on your way to getting cash back on nearly every purchase you make through participating retailers.
Happy Valentine's Day!

NOT A MEMBER YET?
It's free to join and be a member! Sign up for your account today and start earning cashback!
To get started, register for a free account with Dollar Dig, click on your unique shopping link at one of over 3000 online stores on our site (including the ones we linked in this article), order your products online like normal, then wait for your cash back. Get started saving today!

Sign up for a free account and earn cashback when you shop online!
Want to know how it works?
Dollar Dig gets paid to advertise the stores featured on our website and uses that money to pay you in cashback when you click the store link.
All you have to do is login to your Dollar Dig account, search for your favorite store, click the store link and shop as you normally would on that store's website. When you're done adding to your cart, you simply checkout and make your purchase…that's it!
Once the order processes and isn't cancelled or returned during the typical 90-day store return period (waiting periods vary from store-to-store – more details available on each Dollar Dig store page), Dollar Dig then rewards you with cashback that can be found in your Dollar Dig account.